New Mural, New Opportunities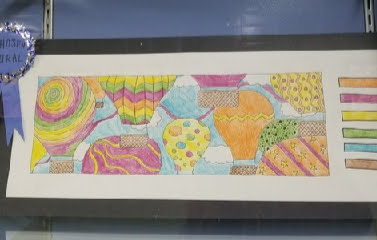 by Jennifer Carpenter
Of the Gleaner
From designing to painting to building whole sets, Wahlert students' creativity never stops. A few months ago, the St. Joseph Early Childhood Center looked to a group of Wahlert students to design a mural for their kids. Ms. Sarah Conlon's graphic design class last semester was assigned to come up with ideas for the mural.  
"Students brainstormed different themes then considered colors, and how to incorporate the principles of design in their compositions," said Ms. Conlon. "After the designs were refined, finals were created either on a computer using Illustrator software or by hand using traditional mediums."
After this, the children came in and chose which design they wanted. They chose junior Martha Ward's air balloon design.
Once the design was chosen, Becky Meissen, '18, was asked to paint it. Meissen has a long history of designing, painting and building many props and sets for Wahlert's musicals and plays. This includes designing and sculpting masks for The Phantom of the Opera, painting A Midsummer Night's Dream's set, as well as designing and building the Urinetown set. These skills will come in handy when Meissen begins working on the mural for the children.
"They close the blinds because the wall is so ugly to look at, so the children don't get natural sunlight, and it's really closed off. They wanted to be able to have their windows open and to have the sun come in and be able to actually see something outside the window," said Meissen. "To start off the mural, I'm going to have a base coat of paint. Then I'll create a rough outline sketch of where everything is going to be placed. Then I will follow with the actual painting."
Meissen will also be participating in painting another mural downtown. This summer, Dubuque is continuing with the downtown mural project. A painter was hired to come and paint one of the murals, and he wanted to take in interns from the Dubuque school area. Meissen was asked to participate.
"I think both of these are amazing opportunities for me to add to my resume and a great opportunity to further expand my skills," said Meissen.
Leave a Comment