Grounded: We've got your mornings covered!
Unlike most schools, Wahlert provides a student-run coffee shop called Grounded. It is open every Monday and Wednesday in the mornings before school. Located in Wahlert's main hallway, it attracts many students and staff from Wahlert, Mazzuchelli and OLG.
Just recently, the Grounded staff added many new items to their menu to give people a variety of options. 
"Recently we just added smoothies, specifically strawberry and wildberry, to our menu. This past week we got in two new espresso machines, so now we can do Lattes, Macchiatos, Mochas and Dirty Chai'," shared Izzy Ungs, '23, the student manager of Grounded. "I am meeting with Mr. Bormann next week, and we are going to hopefully set up a Venmo account. That should be coming within the next month or two," Ungs continued.
They expanded their menu for a few different reasons. 
"We have had a few requests for a wider variety of drinks, but we also saw a sharp decline at the beginning of the year with our sales. So we kind of just brainstormed things that we could add to our menu to bring them back up. We also think that it is important to offer non-caffeinated options, so that's how smoothies came into play," said Ungs.
The additions have helped a lot with sales. 
"For the most part I think the sales have gone up. When we first had our smoothies come in, a lot of people that we hadn't seen were stopping by. So we definitely made more profit on that day. Also a lot of people like our macchiatos because they have been popular drinks at Starbucks. People are familiar with the drink, so they gravitate towards it. Just lately, since the weather is getting colder, a lot of people are ordering hot drinks. Hot drinks are becoming more popular and are attracting more teachers. This is very nice because all teachers want to support Wahlert. So, yes, so far we have seen a good increase in sales!" said Josie Wolbers, '24, who works as one of the baristas.
Students are pleased with the new menu additions.
"I like their new options. Personally, I don't get them, but I feel like adding more gives more variety to people that might not like chai or coffee that much. Having the smoothies really added a nice touch to the menu!" said Karyn Ellis, '26.
Grounded is popular among students.
"I go to Grounded about every other week because coffee isn't made at home and it's convenient to be able to get it here. I like to usually get their Vanilla Chai, because usually the line to get a drink is very backed up and a chai is easy to make and it is very good," said Luke Zimmerman, '23.
Grounded's customers aren't the only ones who enjoy their drinks. 
"I really like the new items. One of my favorites is for sure the Dirty Chai! I love making it and drinking it on the days I get to work. I think the new menu is giving people many more options, and the smoothies are for sure one of our big hits now," said Wolbers.
Leave a Comment
About the Contributor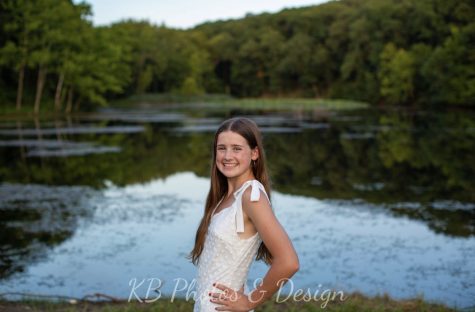 Claire King, Reporter
This is Claire King's 1st year on the Gleaner staff, she is a freshman.
She participates in cross country, basketball, and tennis. Claire loves
to bake,...