Brain Health Room Update
The brain health room has been open for a couple of months now. Since its opening, there have been some successes along with challenges. 
"Two hundred thirty one unique students have used the room. When you think about that, the school has 425 students, so more than half of the student population has come to the room at some point. To me, that's pretty amazing," said Mrs. Molly Menster, the brain health room moderator. 
Another awesome thing is that Menster is seeing a lot of progress with students. 
"Students are benefiting from their time spent here, whether it's grieving the loss of a loved one, coming down after a test, or just decompressing before they move on to the next class," said Mrs. Menster. 
"The brain health room has made me feel more calm, and like I had a place to go when I was having a rough day," Penny Kelly '26, said.
Despite the many successes, there have been a couple of challenges since the brain health room has been opened. 
"One of the challenges is the hot chocolate because it's very popular. Frequently, if one person takes it, then I have a giant line of people. It's something that I hope students become more discerning about using and not just impulsively making one," said Mrs. Menster.
"Another challenge is that some students come down here thinking they're gonna spend thirty minutes in here, and I'm not sure if that's how I want people to be thinking about it. Then, there are times where students are messaging other friends to meet up," said Mrs. Menster. Ms. Bridget Sullivan has that concern as well.
 "I feel like a lot of students just go there to hang out. But, I think there are certain students who really benefit from having that resource," said Sullivan.
Lots of things have changed with the room itself, such as the furniture. Menster recently got two extra chairs. Even teachers have started using this resource. 
"Originally, on the survey,  I didn't have an option for staff. I just had the four grades, so recently, I added a faculty option, " said Mrs. Menster.
Overall, the brain health room seems to be a beneficial experience for students. It is important that we continue to use it in the correct way. 
Leave a Comment
About the Contributor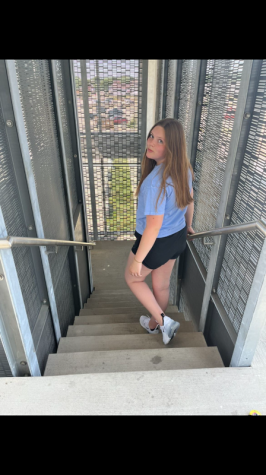 Hannah Hartman
Hannah Hartman is a sophomore at Wahlert Catholic High School. She is a reporter for the Gleaner. Hannah loves to bake, go shopping, and hangout with her...