Tilted Towers Tempts Teens
The forgotten game, Fortnite Battle Royal, has recently received as much attention as when the game peaked. Tilted Towers is a location within the game where players can choose to fight. In the past, the location has been the "hot spot" and a fan favorite place to drop. 
The game lost a large amount of attention on May 4th, 2019, when Tilted Towers was destroyed. In all the darkness of the last couple of years, there has been a light. The well known question, "Where we droppin', boys?" has been answered amongst teens around the world.
Jack Freiburger, '22, is a fan of Tilted."Me and the boys are on the same brain wave. It's Tilted every game. There is no need to even place a marker (a way to indicate to your teammates where you will be battling)." 
Aaron Savary, '22, enjoys the addition of Tilted for a different reason.
"I usually drop 'The Daily Bugle' (another location within Fortnite) and so do a lot of other players. But now, with the addition of the Tilted, no one drops 'The Daily Bugle,' leaving me with all the loot (items to help you win the game)."
The Daily Bugle location has almost replaced Tilted Towers as  a hotspot on the map. But now that Tilted Towers is back, teens have not only seen a change on the map but also a change in their lives.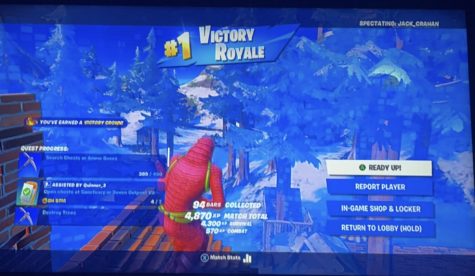 "I started to play a bit more when Tilted Towers came out again. I even took my college class at home so that I could get on sooner," said Freiburger.
Another avid player, Carson Cummer, '22, had a similar experience, saying, "I mean, I was ecstatic. I couldn't believe they brought back such an O.G. (Original Gamer) spot for the O.G. Fortnite. I think I've been playing a bit more, maybe even getting more vicroys (a term for victories) but nothing crazy." 
Across Wahlert, some people have seen a change in not only the game, but also their lives. Smiles filled the halls the week of January 18, 2022, as the location was added back. No doubt, these smiles will continue to be a common theme throughout the life of Tilted Towers.
Leave a Comment
About the Contributor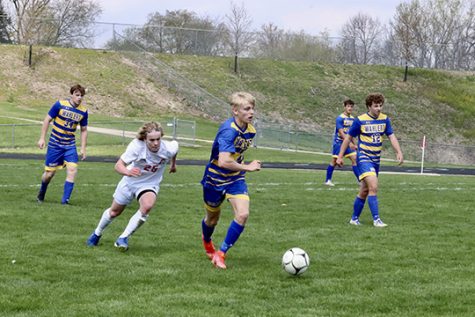 Brant Perry
Brant Perry is a senior reporter at Wahlert. He wants to play soccer in college, and plays on a traveling team in addition to the Golden Eagles. In his...