Money is not the only reason for working a part-time job to some students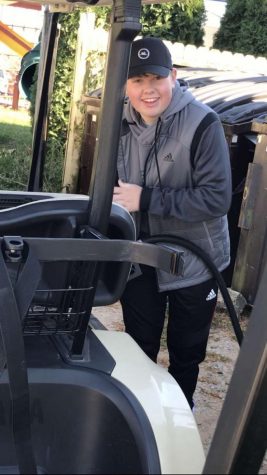 Most students just get jobs to pay for gas or spend time with friends. But for a few lucky students, a part-time job is a way to have fun, make money, and learn about future careers. Alex Link, '22, is one of those people.
"I work at Meadows Golf Course, where I do outside service and I clean golf carts," Link comments. He says his favorite part of his job is, "interacting with different golfers. Just talking to them and to the other workers that are there."
Emily Dominguez, '25, works as a hostess and cashier at Los Aztecas. She says, "My favorite part of my job is being comfortable at work and seeing people."
Lilah Takes, '23, also has a job that makes her happy. She works at Brazen Open Kitchen. "I love my coworkers, my boss is really nice, and the food is good," Takes comments. "I always liked going in there as a customer. I just wanted to help out."
But what makes a part-time job so enjoyable? Students say that being around people you like and doing things you like to do helps.
Takes says, "Being with my coworkers and seeing people that I know come in is my favorite part."
Dominguez adds, "I enjoy my job because I can be more independent, so I don't have to be asking people for money."
"I play golf, so I want to be around that environment, and it just interests me," Link comments.
Part-time jobs have the obvious reward of money, but they can also be an enjoyable way to spend time with interesting people and let students explore their talents.
Leave a Comment
About the Contributor
Olivia Brimeyer, Reporter
Olivia Brimeyer is a freshman at Wahlert Catholic High School. She enjoys spending time with family and friends, petting her dog, and sleeping in. Olivia...