Childhood pals from the beginning to the end
by Sophie Skemp
of The Gleaner
Looking back on the past fourteen years of our lives, many of us can say we only made it because of our second-halves. Our best friends are some of the people we cherish most in this world, and the ones we love beyond measure. A best friend might be the sibling God never gave you, a shoulder to cry on during the darkest points of your life, and the ones we call on a Monday night at 2 a.m just because. We seniors have had the ride of our lives, and it's time to recognize the friends who've stuck with us through it all.
Best friends since they can remember, Ben Kramer and Adam Wagner, recall their memories since childhood.
 "Something we used to do, that we still do today, is hang out at my grandparents' pool and ride our dirt bikes in my backyard," said Wagner. Whether it was constantly being outside or creating memories, the boys have cherished each moment together.
Friends since kindergarten, Ariana Yaklich, Ana Chandlee, Hayley Welbes, Abigail Klauer and Sophia Skemp have grown up with each other. 
"My favorite thing about having my best friends since childhood is that they know everything about me and exactly what I am thinking," said Chandlee. 
Welbes adds, "I love bringing up memories from our childhood together and laughing about them." 
Yaklich concludes, "These girls are like my sisters because they have always been there." 
Meghan Fitzgerald, Sophia Wagner and Clare Walsh, have also been close friends since a very young age. 
Fitzgerald says, "In fifth grade we all went to a Bridget Mendler concert, and after that, we decided we had to perform one of her songs in the talent show." These girls did not follow through with their brilliant plan, but their friendship has continued to grow strong throughout the years.
Nate Donovan and Joel Tranel have been each other's best friends all throughout K-12. 
Donovan says, "Even though both of us are attending different colleges, we plan on checking in with each other. We both want to continue our friendship, so hanging out when we come home for breaks is definitely in our plans." 
Tranel and Donovan have cherished years of playing sports together and taking on life's challenges with each other at their sides. 
Nora Mahoney and Emily Barnes are the type of friends that can go a long time without seeing each other, but when they are together, it feels as if time has never stopped. The two girls have grown up with each other, and cherish many memories from Saint Anthony's Elementary School through high school. 
Brothers since they were born, Jack Crahan and Danny Steele have gone through thick and thin. Crahan's and Steele's families have been friends their entire lives, and they've shared vacations together that they will always remember.
"The quality I love most about our friendship is the countless inside jokes we share; we're always laughing about them," says Steele.
Our best friends are the ones who laugh with us on our good days and motivate us to keep going in life. While some friends are moving away from each other in just a few months, they all plan on keeping their friendships strong and alive during their college experiences.
Leave a Comment
About the Contributor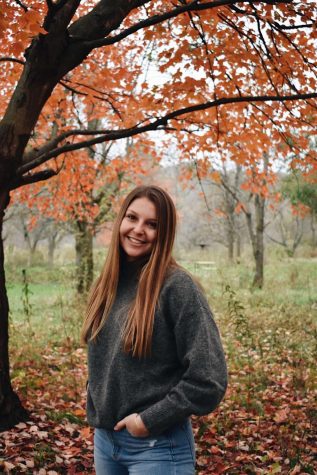 Sophie Skemp, Reporter
Sophie Skemp is an editor on the Gleaner. Skemp is a senior and dances on Wahlert's dance team, as well as competing with Xtreme Dance studio. Sophie also...