Student entrepreneurs make a difference
by Sophie Skemp
of The Gleaner
Students across the world are changing the lives of others and they're becoming more inspired by the minute. Businesses are looking for young entrepreneurs who are ready to make a difference and change how the world functions. 
Some of these students have already started making big differences in our community, and students at Wahlert have leapt into the business side of the world. 
Emma Belken, '21, attended the Young Entrepreneurs Academy last October, which helped prepare her  for running her own business. Belken designs and sells sports bras for women where the padding is sewn into each bra, allowing  for a comfortable and easy fit.
"I talked with a lot of friends and family about what issues they wanted to see change in the world," said Belken. "A lot of women mentioned they were annoyed at the fact that the padding always comes out of their sports bras." So, Belken decided to see how she could help. What makes her business so unique is that each sports bra comes with a story of a woman who won her battle against breast cancer.
"I have always wanted to give back to the community, so I decided that a portion of the proceeds would be donated to breast cancer research at the Wendt Regional Cancer Center at Unity Point Health," said Belken.
Belken named her business Stitch Together. It was created to make a difference and spread awareness about breast cancer and the survivors whose stories she shares. Belken said the best part about creating her small business is that she has received a lot of support, which keeps her motivated. 
Another student at Wahlert took inspiration from his childhood and created a business of his own. Colin Warthan, '21, buys, fixes and sells vehicles. 
"My dad was a car dealer and had many classic cars of his own that he would buy, redo, and sell. I naturally fell in love with this business," Warthan said.
Warthan finds vehicles at good prices or that need tuning up, and he resells them for even better deals. He said that because he fell in love with this hobby at such a young age, he plans to pursue his passions and one day change from having a side hustle, to making it his full-time career.
"I plan to go to college and study to become a car dealer," Warthan explained. "It is very rewarding becoming so successful from something I absolutely love to do!" he noted. 
Warthan said he has learned a lot from his father and over the years of creating his own side hustle. He officially started fixing and selling cars last year and uses this as his main source of income. 
Whether it's taking a step at spreading awareness or using inspiration from a young age, these two entrepreneurs are making their way up in the business world, doing what they love and striving to make a difference.
About the Writer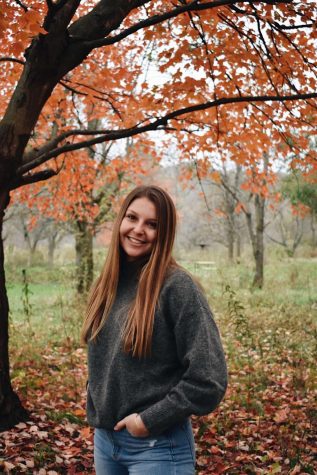 Sophie Skemp, Reporter
Sophie Skemp is an editor on the Gleaner. Skemp is a senior and dances on Wahlert's dance team, as well as competing with Xtreme Dance studio. Sophie also...