Students earn cash with a splash of fun
For many, a job is not a fun task, but something that has to be done. Well, why not work somewhere more suitable to your personality? Various students have found jobs that keep them interested and could even be described as enjoyable.
The tourist town of Galena, Illinois, offers many interesting job opportunities. One of these is Galena on the Fly, a unique tourist attraction that offers hot air balloon rides. Ahna Duggan, '21, sets up the hot air balloon, follows it around town, packs everything up when the customers land, and drives them back to their cars. Sometimes, though, things can get a bit out of hand.
Duggan said, "I would have to say one of my most vivid memories would be when the balloon flew over the Mississippi River, and we had to drive from Galena to Bellevue to get it. A bunch of people were around, and my boss let all of the little kids run around the balloon."
Duggan also said that her job is a lot of fun, and that most people are very friendly.
Samantha Rury, '22, also works at a Galena tourist attraction. Her family started their own business, Hoof It, and its success has grown rapidly.
The Rurys have always loved goats. They have had goats on their 300 acre land for four years now. Prior to the start of Hoof It, they always took the goats out of their pen and played with them, almost as if they were your average pets.
Rury said, "One time we went for a walk, looked behind us, and saw that the goats were following us. My mom is really creative, so she just put two and two together, and out came Hoof It!"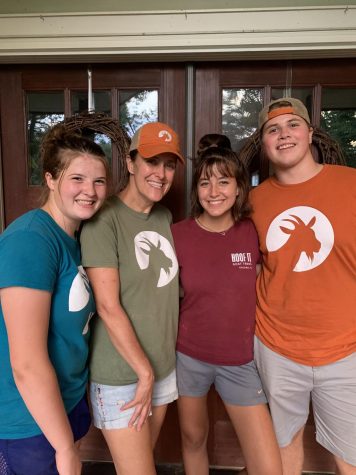 According to their Instagram, @hoofitgalena, Hoof It hosts goat treks, bonfires, kids' camps and more! Rury goes on a goat trek every weekend four times a day and still has a blast doing it!
Another unique job is held by Ava Gebhart, '21, who channels her creative side by working at Board and Brush. Due to Covid restrictions, Board and Brush is closed down, so she got a second job as a server at Mount Carmel. She plans to return to Board and Brush, while keeping her other job, whenever possible.
In reference to Board and Brush, Gebhart said, "My main jobs are to set up the supplies, assist people making signs, help them come up with ideas, and clean brushes, tables, etc. I love seeing how everyone's signs turn out and how creative people can get."
These students have found that in order to stay interested in a job, it needs to be something that aligns with their personality and interests.
About the Writer
Jamie Vondra, Reporter
Jamie Vondra is a junior at Wahlert and an associate editor on The Gleaner. Vondra is involved in volleyball, bowling, and golf at Wahlert. Jamie enjoys...