Cycling and yoga lead to a healthy lifestyle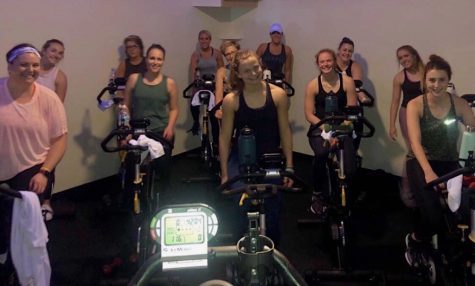 High school is arguably the hardest and most stressful four years of our lives. Teenagers juggle the stress of school and home life, extracurriculars and jobs, which can get to be crazy. The first step to balancing stress and the challenges of everyday life is taking care of yourself. 
Lydia Foy, '23, does yoga to relieve stress three times a week. 
"I enjoy doing yoga because it relieves stress, helps me meditate, and makes me feel as though I have conquered the day," she said.  
Many students have started doing yoga because they are stressed or need to stay fit, but Lydia also shares that she started because of an experience in 6th grade.
"I started because I had an exploratory yoga class in 6th grade and I loved it. Mrs. Trees also sparked my interest in the activity."
Alaina Schmidt, '20,  in contrast, started doing yoga because she wanted to become more fit. 
"Yoga also helps keep me awake for school, which is a good thing," Schmidt said. 
Ella Olberding, '22, relieves stress in a different way. She enjoys cycling in her free time to stay fit and take her mind off things.
"Cycling is challenging and pushes me. It really works my body," she said. She also shared why she got involved in the first place.
"My cousin Katie Wedewer teaches at Soul and my other cousin Libby Wedewer, '20, asked me to come to one of the classes with her, and I've loved it and started going more often ever since," she said. 
All in all, taking time for yourself and taking care of your body should be a part of everyone's day. A stress-full life is easier to bear when moments of it are stress-free.