To become blessed, broken, and given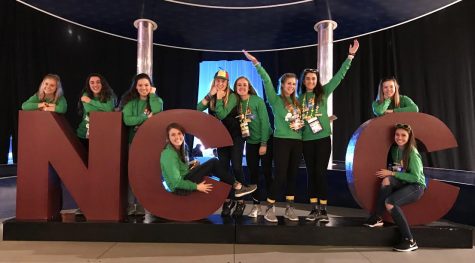 "To become blessed, broken, and given" is the theme of the 2019 National Catholic Youth Conference, well known as NCYC. NCYC is a nationwide conference that attracts about 23,000 Catholic teenagers and adults for a powerful three-day experience in Indianapolis.
One of the greatest appeals of NCYC for high school-aged teenagers is the conference's social aspect. With thousands of teenagers from across the nation attending, the community proves one of the most powerful parts of the experience.
For Hannah Hefel, '21, NCYC came strongly recommended by many people. The event was described as a high energy and powerful experience, so she decided to go. Hefel said, "It's a great way to grow closer to God, but also make connections with people from all over. From everything I've heard so far, my biggest takeaway is to go into NCYC with an open heart."
As Hefel mentioned, going into NCYC with an open heart is crucial. There are many different mass and spiritual opportunities available at the conference, but the participant must have the initiative to capitalize on these opportunities.
Because the focus of NCYC is the idea of being "Blessed, Broken, and Given," participants will attend three meetings prior to the convention, each one focusing on a different word.
Evan Arnz, '22, was persuaded to attend by his sister, who previously attended. Arnz said, "As of now, my biggest takeaway from the meetings was the segment about being broken. Being broken is not a part of God's plan; His plan is to nourish us and give us life."
One of the goals of NCYC is to help youth and adults strengthen their faith through various forms of prayer.
Tatum Manternach, '23, said, "Throughout my life, I have fallen out of my relationship with God at times, and NCYC is the perfect place to discover your faith. I also think it is incredible that teenagers from all over have chosen to build their connection with God."
Clearly, the youth and adult chaperones of our community are in for a unique experience at NCYC. In a jam-packed three days, the participants will encounter Christ, experience church, and inspire discipleship.