How one man saved Wahlert's band
It has been a year full of change at Wahlert. With numerous teachers leaving, and even more coming in, there have been plenty of fresh new faces roaming the hallways. Yet, the one that has had the loudest impact is new band teacher, Mr. David Bechard. 
Since his arrival, the band program went from being nearly dead to being completely rejuvenated. Not only that, but a couple of new music-related classes are now offered, such as drumline and "Bach to the Future." Owing to his success are the changes he's implemented, as highlighted by Sara Freund, '20.
"It's really different this year. We have more members, meaning more sound; we're very organized this year, and we're learning about music and practicing more. It's been an adjustment going from a small band to something bigger, but it's been good," she explained. 
Freund, having been in band for seven years, highlighted that one of the biggest changes she saw was the organization of the class. Specifically, they have a set routine for every class: a warmup and then practicing the music. This has allowed them to focus more on things such as marching band, playing at the games, and the pep rally, among others.
"He [Bechard] has been really great to work with; he's ready to build the program up and work with students. He's been open to suggestions, and overall, just a hard worker willing to improve the band. It's a nice, new era of the band, and this is just the start with more to come," said Freund.
Gavin Hamilton, '20, agrees. Although this is his first year in band, he too has felt the impact that Bechard has brought.
"Learning to read music has been a challenge, along with the different styles of playing, but through this, I've been writing music. This has made me really excited about doing music in school," Hamilton said. In regards to Bechard, he added, "He's been fantastic. Having a great teacher like Bechard has effectively inspired me to get out of my comfort zone."
Brady McSperrin, '21, concurs.
"The vibe is generally more excited about band this year. Everything seems more organized, and there's a lot more energy in the room. And it helps when there's double the people, not just 15 people trying to make it work. Doing a lot more exercises to improve playing ability, along with playing more in general, has also really helped the sound of the band improve this year," McSperrin explained.
As for Mr. Bechard, things have been going pretty well so far.
"Wahlert has been really welcoming and friendly, and it's been a comfortable working environment. It has been a different atmosphere for me to go from being in charge of 300 students to 70 across all my classes. I am a different kind of busy, but the students and staff have been great," he said.
In terms of the changes he's seen since coming here, he highlights the fact that students have been encouraging others outside band to join. He also spoke of his excitement regarding the marching band as being new and exciting, along with the band's new social media presence. Most importantly, he also talked about focusing on the social atmosphere, of building a team and family. 
As for the future of it, he commented, "We're still growing the band. It's much larger now, but we want to keep encouraging people to join and stick with band. In the future I hope to do more playing and performing not only in the Wahlert community, but also in the rest of the Holy Family and even Dubuque community. I think that's part of my short term goals, to grow and make the band visible to people outside the band room. There's still lots of fresh excitement on the horizon."
Leave a Comment
About the Contributor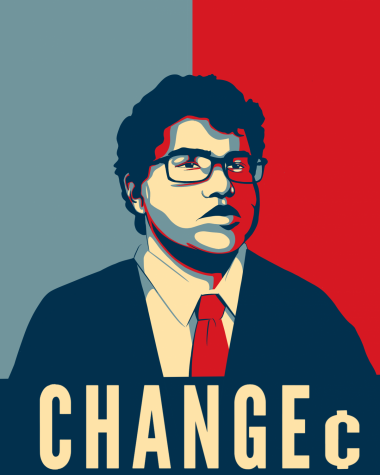 Alejandro Rojas, Editor
In his third year of the Gleaner, Alejandro Rojas, '20, is a senior editor of the paper. A hard worker in and out of the classroom, he is very excited...