Out in with old, In with the new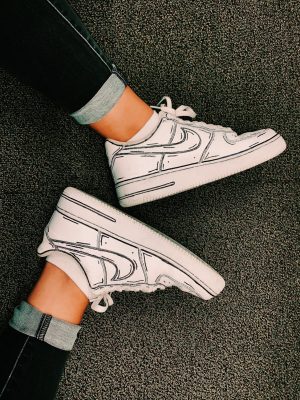 With the new school year come lots of new trends. One of the most unique new fads at Wahlert is to wear Nike Air Forces. Some of Wahlert's sophomores wanted to be in on the trend but still stand out and be different than everyone else. 
Mia Kunnert, '22, said she was bored at a track meet last spring and started taking ideas from people and designing her shoes. 
"I noticed a lot of people started getting them after I already had them, and I wanted mine to stand out and be different. So I added flowers, eyelashes, pineapple, fire and ice, Starry Night, and a 'Made In China' logo on them," said Kunnert. 
Kunnert also colored a rainbow design on some of the shoelaces. 
Another sophomore, Addie Poppe, saw that people were making their shoes unique and she wanted to do the same. Except she didn't draw symbols; she had something else in mind. 
"I saw a design on Pinterest where you use a sharpie and outline all the creases and lines on the Air Forces, and it looked super cool," Poppe said. 
She thinks that hers turned out even better than the ones she saw on Pinterest. 
Lastly, Claire Walker, '22, designed her shoes completely self-inspired. She outlined and then colored in the Nike sign on the shoes and made it appear as if it was dripping paint. 
"First the trend was to get Air Forces, and then it was to draw on them. I didn't even realize it was a trend when I designed mine. I just thought it would look cool and unique," said Walker. 
Although there are lots of similar trends, these girls still found a way to be different from everyone else. Take a look next time you are walking through the halls!