Keep your friends close, your car closer
Turning 16 is a milestone that means many things for different people. For many students, the opportunity of driving to school begins with a set of new keys. Whether brand new or generations old, the memories shared between a student and their car are ones that last a lifetime.
If you see a red Chevy Silverado pulling into the parking lot, chances are it is Alaina Schmidt, '20.
"Freshman year, my dad was buying a new truck, so he gave me his old one that I named Cliff," Schmidt stated. "Cliff and I have shared many memories. We have gone to drive-in movies, ditches, and have gotten a speeding ticket together."
Some cars have been passed down to students from their older siblings. Rebecca Schmerbach, '21, received Penelope from her sister Kimberly ('17) her freshman year.
"Penelope is 25 years old," Schmerbach said. "The handle on the driver's side door was broken and the window wouldn't move, so we found another car door at a junkyard. The color is the same, but it's a slightly different shade."
Tanner Rudiger, '20, also has a relationship like no other when it comes to his Chevy Impala, Latoya.
"Latoya was a gift from my dear uncle," Rudiger stated. "She has been a real trooper with my driving skills. One time, I was going to Target with some friends, and we got a little close to the curb. Then before we knew it, a large tree branch got lodged in the tire house and prevented my passenger door from opening for a good few months. We got Latoya fixed, but then I crashed, and the door won't open anymore."
In the end, cars are more than machines that get us from point A to point B; they serve as temporary dining spaces, they blare music during late night drives with friends, and serve many more purposes. While not a necessity, having a car is a great thing and teaches us many things as we grow up.
Leave a Comment
About the Contributor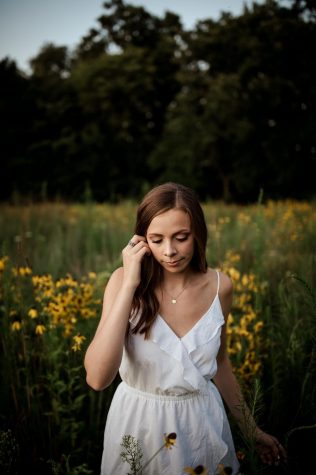 Maddie Roling, Editor
Maddie Roling is a 2020 graduate from Wahlert and a previous co-editor on The Gleaner. Maddie was co-captain of the varsity football cheerleading squad,...