Steffen takes her passion to Wahlert
In all sports there are the wishers, the dreamers, and the hard workers. Often the hard workers are the ones that are able to reap the rewards at the end of the day. 
Rylee Steffen, '24, has been working hard for nearly four years to be able to make an impact on a top highschool track team. Now that it is her freshman year of high school, she is finally able to show off her talents on a bigger stage.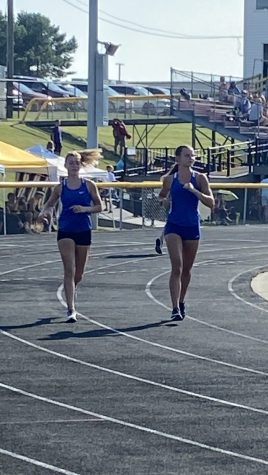 With Whalert having a highly reputable track program, this made it a pretty straightforward decision for Steffen when deciding the best school for her. "Wahlert has always had a girls' track team that has stood out against the other area schools. I knew from the very beginning that I wanted to be a part of the team. The coaching staff is second to none as well. They push their athletes to be nothing but the best and to make sure the team becomes one big family," stated Steffen.
While many athletes start training when they are young in hopes to have a competitive advantage over their opponents, Steffen who started running competitively in 6th grade, has had to work harder than everyone in order to catch up with her competition. "I have been working on the track with my trainers since August, training for the season I've been long waiting for. I have also been in the gym nonstop getting myself prepared as well," said Steffen.
Although starting young, Steffen has already proved herself placing first in her age division at various meets and running in the Iowa Junior Olympics. She also has a personal record for the 100 meter dash at 13.04 seconds.
For many young athletes in this generation, it is vital to have a role model or someone that to aspire to be like. For Steffen, that is someone that she can look up to for inspiration and someone that shares her same interests. "A person that inspired me to start track was my aunt. She was a very fierce competitor in track until college where her running career abruptly ended due to an injury. She has reminded me never to give up and always give 110% no matter how hard it gets," said Steffen. 
Going into the season, Steffen has set some lofty goals that have kept her going during the offseason. "My main goal is to be able to achieve personal bests in all my races and to be able to qualify for Drake Relays and the state meet as a freshman," remarked Steffen.
Although Steffen is just getting started, it seems that she is well on her way to becoming one of Wahlert's best athletes.