Shredding into snowy successful season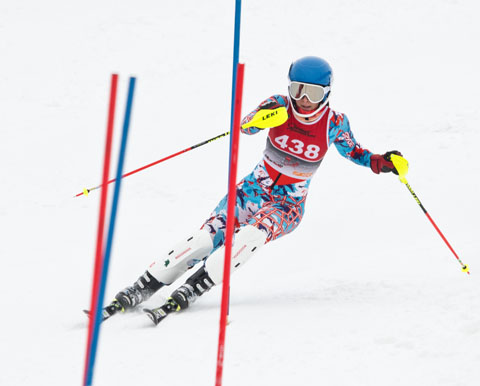 One might think that skiing is simply a fun winter activity anyone can participate in. But there is a whole different world to skiing: alpine ski racing. This sport consists of going around gates at high speeds down a mountain. It is an individual sport, making it a very mentally, and especially physically, taxing sport.
Despite its challenges, around 60 people make up the Sundown Race Team and about five of them attend Wahlert.
Murphy Newlin, '22, is one of those racers, and his favorite part of it all is going fast.
As Newlin said, "Zoom zoom."
Along with going down a steep hill at fast rates comes the consequences of possible injuries. The biggest impact skiing had on Murphy's life is when he had his first big crash.
Murphy said, "It opened my eyes, and in a way, made me a lot more comfortable on the course."
Lilah Takes, '23, also has had an interesting ski career.
"I'm very small and very light; therefore, I don't go down the hill very easily," said Takes, "there was also a time, right after a race, I went to get on the chairlift, but fell right off."
There have been many times winds have been extremely strong and Takes has had to be pushed out of the starting gate. This has proven to be challenging for Takes, but Takes she stuck with it for nine years now.
Another competitive skier attending Wahlert is Marley McSwain, '23, Marley skis for Chestnut Mountain, which is about 45 minutes away from Dubuque, but only 10 minutes away from her. Although she is only 14, McSwain skis against 18-year-olds.
Marley has learned to respect the individuality of skiing and use it to her best ability
She said, "The biggest challenge for me surrounding racing is overcoming the challenges that I create for myself."
McSwain is not only physically capable of skiing well, but she has what every other skier wants: the mentality. Marley once suffered a tough knee injury, a torn ACL. But, the next year she came back stronger than before. In fact, McSwain managed to be the first girl in over ten years to move up two age groups in one year.
Last year Marley's skill was recognized when she received the Shelly Glover Award.
McSwain said, "Shelly Glover was the epitome of what a great racer, teammate, and friend should be."
Typically, a beloved senior from every team receives this award. That is why Marley was shocked when it was awarded to her as an 8th grader.
She said, "I was so honored to be chosen so young."
Leave a Comment
About the Contributor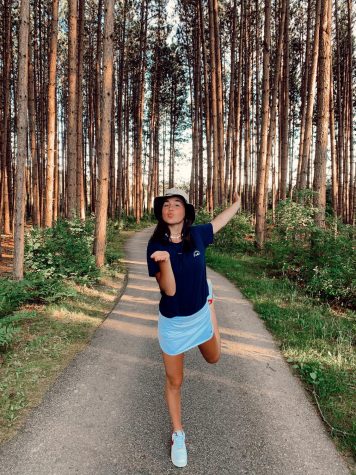 Claire Walker, Reporter
Claire Walker is a second-year staff member of the Gleaner. She is involved in volleyball and tennis, but enjoys skiing in her free time. Claires favorite...