Football fundraiser brings in big bucks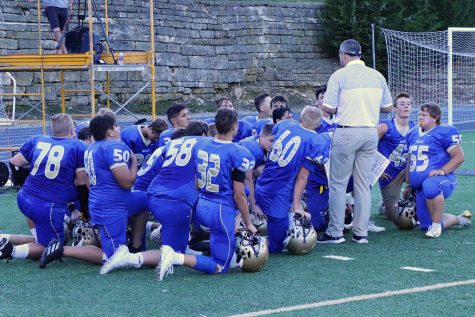 Each year, the football team holds a fundraiser in which they sell discount cards. This year was very significant because of the large amount of money raised. So how did they raise so much and to what did the money go towards?
This year, the players set a goal of selling 25 football cards each. If each player achieved that goal, which almost all did, they would raise $500 each. Collectively, they raised 40 percent more than they raised last year.
In order to make it more competitive, the players were drafted into teams. Diego Mejia Moreno, '22, clearly helped lead his team to a first-place victory in the competition.
"I mainly sold the cards to people in the community, like business members. I also went door-to-door to make sure that I had full outreach," said Diego.
Due to his competitive business tactics, Moreno sold a total of 100 discount cards. Some players and coaches even believe that Diego's determination helped motivate other players.
Assistant Coach Cole Smith said, "It was cool to see Diego go above and beyond. I really think it was feverish for the rest of his team and was what helped lead them to a first-place victory."
The team's successful sales allowed the purchase of a new hydration system. The system is better for the environment and more efficient.
So where did Diego get his inspiration to sell so many cards? "In football, the people around me drive me. I have great teammates and they push me towards my limits."
Leave a Comment
About the Contributor
Jamie Vondra, Editor
Jamie Vondra is a senior at Wahlert and an editor on The Gleaner. Vondra is involved in volleyball, bowling, and golf at Wahlert. Jamie enjoys creating...