Softball team crushes competition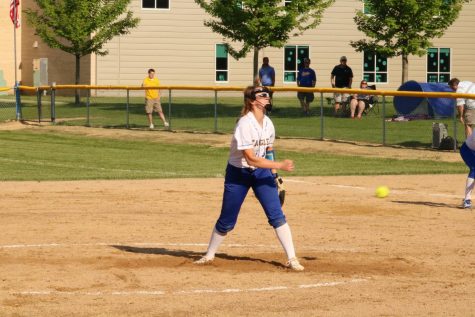 The girls' softball team has already started off it's season strong by adding lots of new talent from the incoming freshman class.
Ellie Kirby, '22, a returning player, is excited for the new season and meeting the new players.  
"This season we have many new eighth graders playing. It's fun to watch our team expand with a lot of good talent," said Kirby.
Anna Chapman, '21, is also excited to take a few new players under her wing.
"Tierani Teslow and Bailey Welu, two incoming freshmen,  look like they are going to add a lot to the team. They have lots of potential," said Chapman.
Although most players have team goals, some also have personal goals they have been working hard for during the off season.
"This season I want to be able to throw farther, which comes from my arm strength," Kirby said."I've been working on that all year so I can be strong for the season."
Chapman, says that the team is hoping to work better together to pull out more victories. "One of our team's biggest goals this season is to increase the number of wins we get this year," she said.
Being on the bench, helping out, cheering and supporting the team is just as an important role as winning the game.
Maria Klein, '19, unfortunately cannot play very much this season because of her torn ACL. However, Klein is hoping to help the team out in any way possible this season.  
"With the new incomers, I am going to be able to help more with position training and being an asset to the coaching staff, which I am really going to enjoy," said Klein.
All of the girls on the team are excited for their upcoming season. They have high hopes that this season will be a good one.