Girls' bench offers energy, support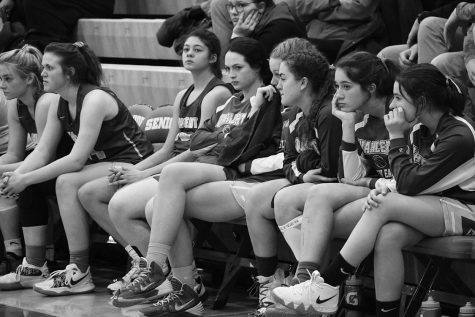 With the past couple of months being packed with games for the women's basketball team, it is safe to say that bench squad is always helping contribute to the team's success. While it may be hard to see their true impact, the bench helps prepare varsity starters for games through practices and hyping up the players throughout the game.
Starter Morgan Herrig, '20, agrees."The bench gets us hyped and after big plays, their cheers help shift the momentum," she said.
Fellow junior Anna Jensen, '20, notes, "On the bench, we try to get  rowdy and scream at the top of our lungs."
In games, it is key to have that momentum, especially when the score is close. "We come up with a different cheer for each three-pointer, so that we can stay excited," said Gabby Moran, '21.
In practice, the bench helps the starters prepare by acting as the scout team. They mimic the plays that the opposing team uses so the varsity will know how to set up their defense.
"This allows the varsity to know what's coming and helps them know the little details that can make a big difference in the game," said Alana Duggan, '22.
Hopefully, with playoffs in the near future, that difference will pay off in a big way.
Leave a Comment