Wahlert Catholic swims to state
Wahlert Girls' Swimming has had a huge success throughout the season, and all their hard work has paid off because this Thursday, Nov. 7, the swimmers and divers will begin their state journey in Marshalltown, Iowa. 
The girls started their season out strong when they won their first meet against Cedar Rapids Washington with a score of 126 to 57. Placing second at Regionals, the team will take nine swimmers and divers, along with three alternates to state.  
Karlie Welbes, '20, qualified for state in four events, including the 200 and 500 yard freestyle, 200 yard freestyle relay, and 400 yard freestyle relay. In fact, Welbes managed to drop 12 seconds off of the qualifying time in the 500 freestyle, getting to state with a time of 5:06 minutes. 
Kenna Wolbers, '23, is also excited for state. She will be competing in the 400 yard freestyle relay, along with her teammates Karlie Welbes, '20, Hayley Welbes, and Zoe Heiar, '21. Recalling a performance earlier in the season, Wolbers hopes to repeat that, saying, "I want to get 55 (seconds)."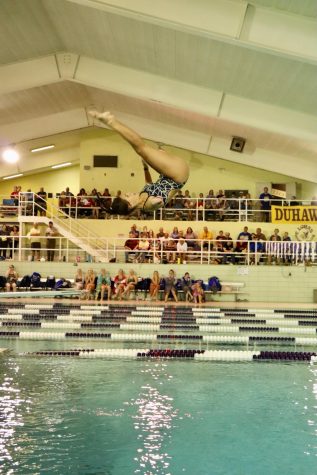 Wahlert will also be bringing a diver to the state meet. Maria Kircher, '20, dove her way to state. My dives "were pretty solid. I did all of them as best as I could," said Kircher.
The State fun begins Nov. 7  and continues through Saturday, Nov. 9, starting off with diving and ending with the swimming races. These swimmers will be representing Wahlert: Alaina Schmidt, Karlie Welbes, Maria Kircher, Tori Michel, Hannah Schiesel, '20, Zoe Heiar, Hayley Welbes, Ariana Yaklich, '21, Natalie Kelzer, Jamie Schmid, Elle Warthan, '22, Kenna Wolbers and Avery Schmidt, '23.