PL finishes up
For Personalized Learning students, the end of the school year can be a mad rush of taking content assessments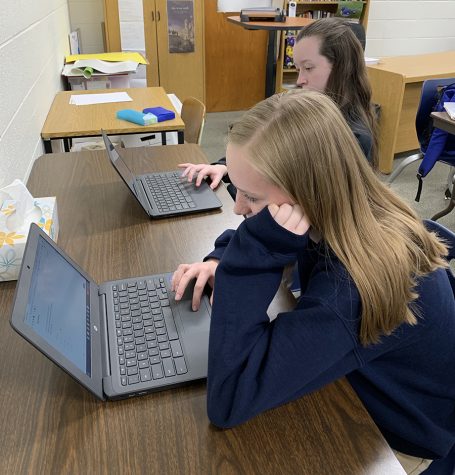 and finishing projects. But as they look back over the year, the students definitely found their first year in P.L. to be enjoyable.
"My favorite part about Personalized Learning is the community because everyone is very encouraging," Zoey May, '22, said.
P.L. is definitely different from traditional learning. In P.L. students learn about different topics at their own pace and then take content assessments on what they learned. Will Kamentz, '22, is one who likes this difference.
"I like personalized learning better than traditional learning because I can learn things at my own pace," Kamentz said.
P.L. isn't just a different way of learning, students also meet with a mentor and discuss goals that they have set.
"My favorite part of P.L. is mentoring and being with a teacher one on one," said Alaina Stecklein, '22.
Although most people in Personalized Learning enjoy it, students think there are still some improvements that can be made.
"One thing that I would want to change is to manage the project time better throughout the school year so that way we don't have to rush through them at the end of the school year," Stecklein said.
As the year winds down and the school year comes to an end, those in Personalized Learning can definitely say that this has been a year to remember.