What have you done with your 2nd winter break?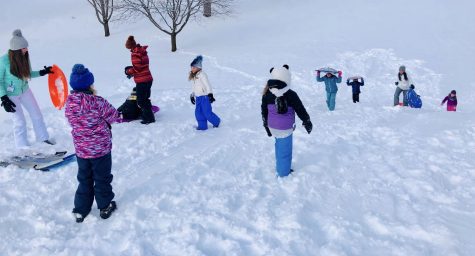 January 2019 brought a plethora of snow days, riddled with icy roads, bitterly cold temperatures, and powder-covered houses. With school cancellations, students stuck at home had to find different activities to take part in to distract themselves from the pile of homework waiting for them at Wahlert. Many students attempted to catch up on sleep or spent time with friends.
Some students are still upset about having to make up the snow days at the end of the year. However, Millie Wilgenbusch, '19, feels differently.
"I love snow days because I can sleep in," Wilgenbusch gushed. "I don't have to make any of them up, so that's really nice." The majority of the senior class stands with Wilgenbusch; the more snow days, the better.
Ricky Walker, '21, has mixed feelings about snow days.
"I do love getting off of school and being able to sleep in," Walker admitted. "I don't like how hard it is to make plans with friends due to poor weather associated with snow days." With extreme temperatures and snowy roads, some students were unable to leave their homes. Luckily, there are options if it's impossible to leave the house.
Mrs. Korrin Schriver, science teacher, has a few ideas of how to have fun in the cold.
"Something that's been on the news a lot is throwing hot water in the air to see the change from liquid to steam," Schriver said. "It happens quickly and only works when it's really cold." Schriver also suggested outdoor activities, such as snowshoeing or looking for animal tracks.
If sleeping in, snowshoeing, or winter science experiments aren't for you, Keeley Carney, '20, suggested movie marathons or exercising with friends.
"During these past snow days, I had a lot of my friends over," Carney said. "We watched a lot of movies. Other times, I worked out with some other friends." Staying active is a good choice over the break, even if it means finding a way to exercise indoors.
Although snow days have both good and bad qualities, one thing is guaranteed- there are lots of opportunities for students on their days off. This January, students had plenty of snow days to experience these boredom busters. Hopefully by the 7th of June, students aren't regretting the time spent indoors as the weather took its toll.