Swimming and volleyball soar at State
As winter sports begin to pick up, it's important to take a look back at the successful seasons that took place earlier this year. Swimming and volleyball both had incredible seasons and through their hard work and dedication, both punched their tickets to state!
The girls' swim team ended their incredible season with a tenth place finish at state. They sent seven swimmers to state to compete in seven individual events and two relays. Karlie Welbes, '20, and Natalia Verastegui, '19, competed in the 200 meter freestyle. Victoria Michel, '20, swam the 200 IM. Abbie Montag, '19, swam the 100 butterfly,  Hayley Welbes, '21, and Verastegui swam the 100 freestyle, and Michel swam the 100 backstroke. The 200 medley relay of Schmitt, '20, Montag  and Elly Kalb, '19, and the 400 freestyle relay of Verastegui, Michel, H. Welbes, and K. Welbes also competed.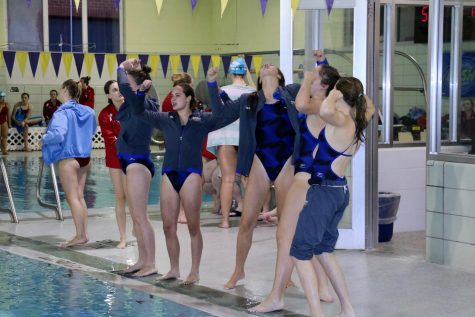 Kalb has been a member of the varsity swim team since her freshman year. "I'm proud of how hard this team worked all season. We were a little bit nervous heading into state because we had disqualified a relay at Regionals. Luckily, everybody really stepped up, and we were able to finish 10th. We're really proud of that finish because they're not classes in high school swimming, so every school is the state is competing against each other," said Kalb. "I'm looking forward to next year's season, and hopefully being able to make our team even stronger!"
The girls'  volleyball team earned the title State Champions for the second year in a row this season! Going 3-0 in the State tournament, the Eagles swept Pella in the first round (25-13, 26-24, 25-22) and Lewis Central in the second round (25-16, 30-28, 25-18). The State Championship game against Sergeant Bluff-Luton went to 5 sets (23-25, 25-7, 25-16, 19-25, 15-8), and the Eagles came out as champions yet again!
Carolyn Conlon, '19, has played on both state championship teams and is already looking forward to next season. "Next year we will have some really big shoes to fill. We're losing the seniors, who were all incredible players and people," said Conlon. "I'm excited to see all the new faces on the team, and see what we can accomplish next year!"
Jenna Gremmel, '18, was a starter on both state volleyball teams. "I'm very proud of the way that this team overcame obstacles all season long. We meshed together and worked very well as a team. Even though we lost the first game in the championship, I was confident in the team. I knew we had worked hard all season, and no one was going to give up," said Gremmel.
"This year's championship felt a little more earned than last year's. Last year, no one doubted that Wahlert wouldn't bring home a banner, but this year we started out as the underdogs. It was a harder journey, but it made the championship worth it. A lot of our success in this is due to the mentality that we weren't just one player; we were one team and we had one purpose," said Gremmel.
Leave a Comment