Students Have Black Friday Friendzy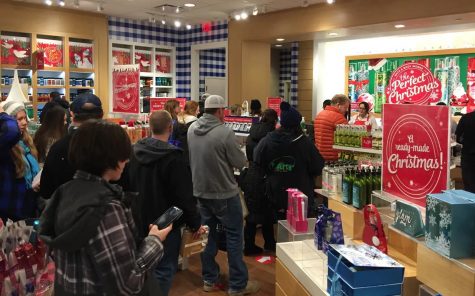 Towards the end of November, families come together to spend quality time and eat comfort food on Thanksgiving, but some traditions include the craziness that ensues the morning after: Black Friday shopping.. People run around trying to find the best deals for their family, friends, or themselves. 
Black Friday's in-store shopping rates were up 47.5 percent this year since COVID-19 vaccines have been distributed and slowed down the spread of the virus. There were many good deals this year, and Wahlert students took advantage.
Anna Dehn, '24, is a huge fan of Bath and Body Works. Dehn said, "The best deal at Bath and Body Works was the "Buy 3, get 3 free." My mom and I ended up getting much more than we needed, but it was worth it for the car fresheners and candles!" 
However, Dehn also said, "The line was pretty long, but I would definitely recommend their candles because they are very fragrant, and I love the Christmas scents." Overall, Bath and Body Works has many quality deals for students to consider in next year's shopping adventure.
Next, Johnny Freund, '22, said that he is not a big shopper but still searches for good deals on Black Friday. Freund said, "I did not buy much, but I looked for good deals on board games and a few other things.  Board games are a favorite of mine, so I always keep an eye on them.  Target had a 50 percent off deal on board games, so I was able to pick up the game The Settlers of Catan for a pretty cheap price."
Freund added, "I usually search for deals on Black Friday, but I also find some great deals in the weeks after Black Friday and Christmas.  Shopping for deals can be easier when everything is on clearance after the holidays." 
Lastly, Grace Miller, '25, got some great deals at one of her favorite places to shop: JCPenney's. Miller said, "I got sweaters that were originally $34 each and bought them both for $10. There were long lines, but they were to be expected on Black Friday."
Leave a Comment