Alumni making history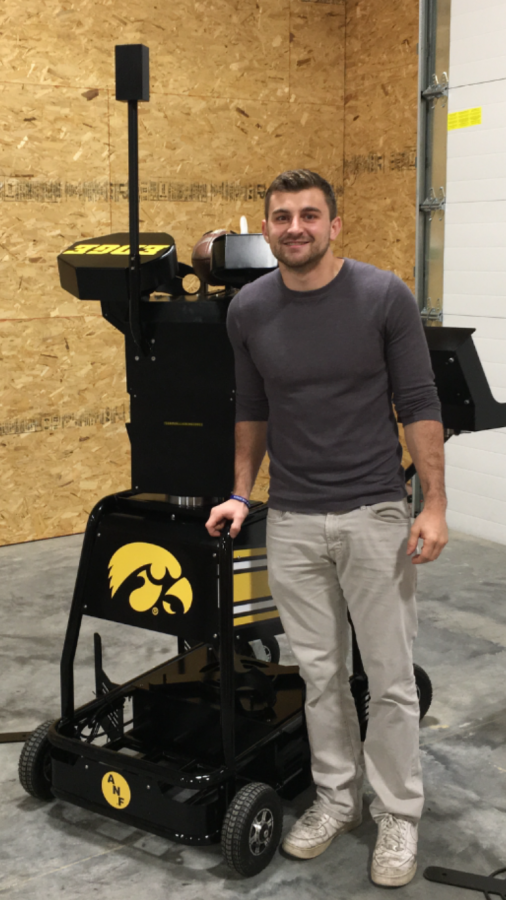 Hang on for a minute...we're trying to find some more stories you might like.
by Sophie Skemp
Of the Gleaner

Nate Pierroti, '12, a former student at Wahlert Catholic, thought he could help improve and increase the performance of many football players across the nation, so Pierotti created the Seeker. A machine which can throw, pass and punt.
Another former Wahlert student, Sawyer Theisen, '12, stepped into the business and collaborated with Pierotti to further promote their invention.
"I got my idea from asking a former running back from the Iowa Hawkeyes how the team practiced and what they used to practice, " said Pierotti.
Riley McCarron, '12, told Pierotti the team was using the same throwing equipment that he had in high school. McCarron stated it was hard to get reps in on his own at practice because there weren't very many coaches or players available to throw to him.
This sparked Pierotti's idea and led him to believe he could create an invention that would help players practice on their own.
Theisen and Pierotti called it the Seeker, a robot that tracks an athlete's performance and allows numerous football drills. The Seeker is used by placing a post tag onto the athletes hip, which tracks movement and time, and a light then blinks back once the machine is ready. The machine offers many types of drills and practices for the athletes to choose from.
"My main focus for this invention was to be able to get information on performance from players during their off season," said Pierotti.
The Seeker allows athletes to compare their performance during various sessions. Pierotti's main goal was to create an invention that would improve the quality of practice for football players and to create durable and affordable equipment for high school, college and professional athletes. Pierotti and Theisen are both excited to see what the future holds for their ongoing robotic inventions.