Athletic director among Marjory Stoneman victims
Hang on for a minute...we're trying to find some more stories you might like.
Editor's Note: Since the school shooting at Marjory Stoneman Douglas High School in Florida, which killed 14 students and 3 adults, students across the nation are not only calling for action but also honoring those who died. At Wahlert, we are honoring the victims by learning a little about them during morning prayer. To give you a better idea of who these students were, we are also writing a short article to honor the victims.
Chris Hixon, the 49 year-old athletic director at Marjory Stoneman Douglas High School, was among the 17 victims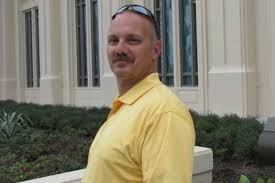 of the Feb. 14th shooting, and one of three staff members killed.
Those that were there that day say that Chris had driven a golf cart towards the sounds of gunfire. He was killed when he attempted to protect his students by confronting the shooter.
"We heard he tried to disarm the shooter," said Dan Jacob, athletic director and wrestling coach at nearby Coral Springs High and a friend of Hixon's for 20 years. "He always put others ahead of himself. He was the first to help people out. He just loved teaching and coaching kids and watching them grow up. Many tears have been shed; that's what he meant to everybody. I'm going to try to be more like Chris."
Chris was known at the school for the passion he showed in his coaching. He served as a coach for wrestling, basketball, cross country, volleyball, and more, and was often at school until late at night working with students. When there were coaching vacancies that made it difficult for some sports to continue, Chris stepped in to coach them himself, often without extra pay.
According to his wife, Debra, Chris was also a proud husband, father, and American. "He loved being an American and serving his country and he instilled that in our kids," Debra said. He was part of the Naval Reserve and served in Iraq in 2007.
Chris' dedicated spirit earned the love and respect of his coworkers and students, and he will be remembered as someone who always put others before himself.