Juniors joyously join NHS during ceremony
Hang on for a minute...we're trying to find some more stories you might like.
Are you going to be a junior next year?  Are you interested in challenging yourself?  Do you enjoy ceremonies in the cafeteria where you get a certificate at the end?  If you answered yes to any of these questions, then you should think about joining the National Honor Society.
National Honor Society, NHS, was created in 1921 and has since grown into a nationwide organization.  Wahlert has had its own chapter for several decades and inducted 55 members Monday night, April 9.
"After a lot of thinking and prayers, my parents finally made me come to the ceremony and join.  That pretty much pushed me over," said Chris Ripley, '18. "Last time, I forgot, and it was too late for the deadline.  Second time's the charm!"
NHS focuses on four main ideals: scholarship, service, leadership and character.  In order to be a part of NHS, students must have a 4.0 weighted GPA, participate in two activities, complete six service hours, and attend the ceremony.
"I am really excited that I've had this opportunity, and I'm just so glad that I could celebrate with my classmates," said Mary Freund, '29.  "I've certainly had to work hard to keep my grades up and to find extra service to do, but I think it's been a challenge that we've all been able to attain."
Last night, the new initiates were joined by the four officers of NHS: Libby Brosius, Maeve Breslin, Sarah Timmerman, and Elizabeth Gehling, '18.  These positions will soon be filled by next year's officers once the juniors cast their vote. The guidance office allows anyone who volunteers their name for a position to be nominated.
"I wanted to be a part of NHS because it was a good opportunity for me to get more involved and to show off the grades and service that I have achieved," said Brosius. "By running for an office, I thought I would be put in a leadership position, and it would look pretty good on my college applications."
Induction into NHS is often considered a hallmark of students' scholarly journey throughout high school.  Membership is recognized throughout the country as an achievement few accomplish. Being recognized in front of fellow students and loved ones for all of the hard work and dedication not only causes a feeling of joy but also shows the world students' passion and desire to serve others.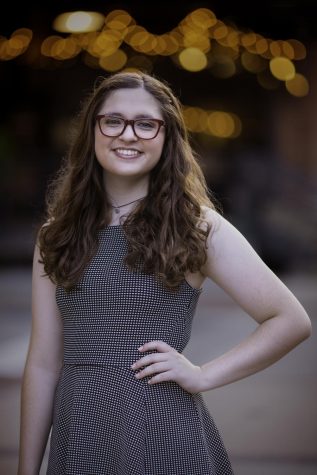 Elizabeth Gehling, Associate Editor
Elizabeth Gehling is currently a senior, and this is her fourth semester being a part of The Gleaner family.  She is involved with Interact, student ambassadors,...