Positive Predictions for 2018
Hang on for a minute...we're trying to find some more stories you might like.
Welcome 2018. We hope this year is full of happiness. With the new year here, a lot of people are predicting what good things that will happen around the Wahlert community and in the world.
Some teachers believe that this is going to be a good year for the Wahlert community. "I predict that students will be more motivated to better themselves and do their best," says math teacher Mr. Kyle Leeson.
Maybe this is the year for students to crack down on their homework and study more. Maybe this year is going to be full of our Wahlert sport teams being successful. "I think that Wahlert wrestling will win state this year," predicts Mr. Joel Allen.
Andrew Stecklein, '19, has the same idea. "I predict that our volleyball team will go to state again. I think that it will be a good year, we just all have to be positive."  
So, it looks like there is a lot of hope for 2018 in the Wahlert community, but what about around the world?
"I think Jake and Logan Paul will get arrested," Anastasia Smith, '21, predicted.
"Kylie Jenner will have her baby and eventually tell everyone that she's pregnant," say Martha Ward and Millie Wilgenbusch,'19.
Some predict that it will also be a good year for people outside of the celebrity world.
"I think the economy and climate change will change, but in a good way," Jenna Gremmel, '18, said.
Again, we all hope that this year is full of great things. Great things around Wahlert and great things around the world. Let's get 2018 started!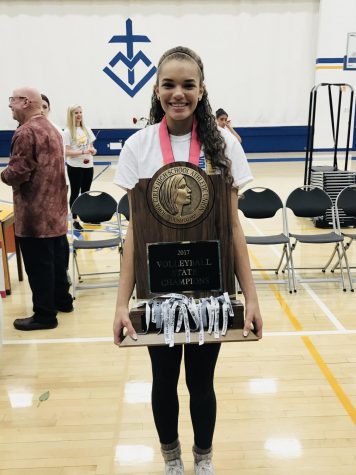 Aliyah Carter, Reporter
Aliyah Carter is a sophomore at Wahlert Catholic High School. This is her first year on The Gleaner. When Aliyah's not at school you can find her playing...