Impulse Attack!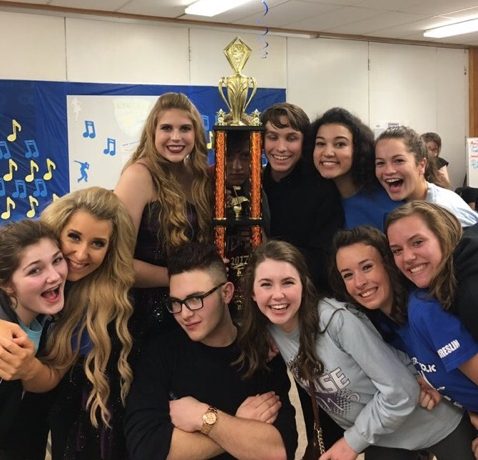 Early Saturday morning, Impulse and Impact loaded up the charter buses and headed off for their first competition of the year in Anamosa, Iowa. It proved a big weekend for the Wahlert show choirs because Impact received third place in the prep division, Impulse took home the second place trophy in finals and Owen Borelli received best male soloist out of the whole competition! Here are some thoughts about the first shows of the season from some Impulse members.
Maddie Strand, '17, is a four-year Impulse member and is excited by the great start to her last season. Strand said, "I thought our competition went really well! Making night finals and placing second was really great. The coolest part was definitely how much we improved between the day and night performances. We had so much energy the second time around and that was so cool!
"I'm super excited for our next competition because show choir days are just great in general, but we should be able to place really well again. Also, I hope Owen Borelli wins best male soloist again! I really think that both Impulse and Impact are going to have really great seasons due to all of our hard work in both shows!" said Strand.
Anna Sulentic, '17, an Impulse member of three years was incredibly excited by yesterday and is looking forward to the rest of the season. "I think that Saturday was amazing! We performed better than ever, and the team is really clicking and realizing what we have to do to be successful. We got second place, but it really felt like first; everyone was so proud and extremely excited. It was such a great start to the season. I'm looking forward to surprising people with how strong our show is and hopefully bringing home some Grand Championships!" said Sulentic.
Katie Link, '19, is a first year Impulse member and was very pleased with her first varsity competition. "I'm so excited to win some Grand Champs eventually, and everyone should do show choir because it's the best thing ever!" Link shouted.
Vanessa Wareham, '19,  is also a first year Impulse member and had a ton of fun at her first varsity competition as well. Wareham said, "I thought Saturday went great, and I had so much fun. I'm looking forward to growing closer to the team and having a really successful season. I've had so much fun in show choir because I've been able to meet and grow closer to a lot of people. I would definitely recommend doing show choir if you're not already!"
Tanner Rudiger, '20, experienced not only his first varsity competition this weekend, but his first high school one as well. "Since this was my first competition, I had no clue what to expect. It was a little hectic at times, but it was really great being able to bond with the upperclassmen and people I don't usually talk to. I'm looking forward to a lot this season. We put so much time and work into our show, I can't wait for it to start paying off!" Rudiger said.
Sarah Jo Wareham, '17, was also very excited by the start of her senior year show choir season! Wareham said, "I think that Saturday went really well. It was awesome to see the group get so excited about how well we performed. Getting second place was a perfect way to start the season, and it definitely made us closer as a team. I'm super excited for the rest of the competitions. Our show is so fun to perform, and I'm anxious to see how well we do the rest of the season. I'm so lucky to get to spend three great years on Impulse, and I'm so grateful for my last year of show choir with such a hard working and talented group of people! It has been such an awesome four years!"
Eric Leigh, '18, is a third-year Impulse member. "Saturday marked our first competition, and our very best performance. I'm looking forward to further improvement and hopefully doing well against some other challenging teams. We have a very strong group with a lot of great newcomers, so I'm very excited for what's in store for us this season," said Leigh.
Luke Schaefer, '18 is also a three-year Impulse member and couldn't be any happier with how Impulse competed Saturday. "Getting second out of nine varsity groups was fantastic. This really showed us that we can compete with teams that are much larger than we are. I'm so excited to see how much better we get. We still have another month of getting better! We've only scratched the surface of what we can do."
Like all the Impulse members, having members of the Wahlert community to come and support is a great feeling. Schaefer enthusiastically stated, "I would like to give a special shoutout to Owen Funke and Will Hutchinson for making an appearance at the competition. it's so fun to perform for friends. And for all those who couldn't make it, remember to never sleep on Impulse."
Leave a Comment