New Club, New Tricks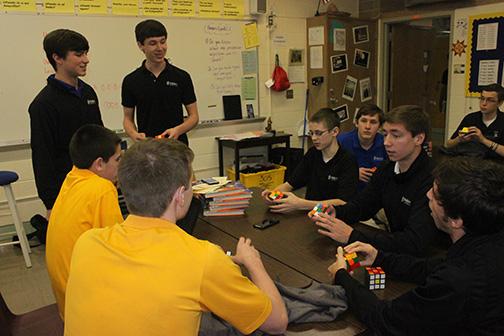 You may have noticed a number of Wahlert students with Rubix cubes lately. Solving these cube-shaped puzzles have become the rage for several students. So much so, that now there is a Rubix Cube Club.
The club began about a month ago when many students showed interest in solving Rubix cubes and Mrs. Rebecca Varley offered to be the club advisor. The club is led by Guppy Berning, '17  and Alec Weber, '16.
Sam Herrig, '17, is a member of the Rubix Cube Club. Herrig can solve the cube in a matter of seconds. How is that possible? Well, there is a science to solving this 3-D puzzle. Herrig explains how he figured it out: "I looked up the patterns and algorithms and eventually just learned it."
Co-supervisor and student teacher Mr. Kyle Marugg is impressed with the level of cube knowledge the Rubix Club members have. "Many of the students are far beyond my level. The students also help each other out, which is really awesome to see. It's mainly just me and Mrs. Varley being there and the students helping one another out."
So, if you want to learn how to be a "cuber," head to Mrs. Varley's room during odd day seminars. You will learn how to solve a Rubix cube and blow your friends and family away with your mad cube skills.