Freshmen take up the challenge
With many of the past starters having graduated, there were several spots open on Wahlert's various athletic teams. As a result, underclassmen and upperclassmen were looked at to step up to the role. Three freshmen took up the challenge: Olivia Donovan, Michael Bormann and Claire Lueken made it  onto the varsity roster for three of Wahlert's varsity teams.
For these freshmen the best part of being on a varsity team was not only being able to play their sport at a higher level but the friendships they made along the way.
Michael was a running back and a linebacker on Wahlert's varsity football team.  "The best part was the connections I had to upperclassmen and how close I got to them as a team in a bonding way," said Michael Bormann, '25. "They were great. I love them all," Bormann continued. 
When it came to team bonding and spending time with the upperclassmen, these freshmen didn't have an issue. For Claire Lueken, '25, the starting post for the girls' varsity basketball team, there were some specific upperclassmen who helped her out. 
"My experience with the upperclassmen is really good. They're really nice and they include you in everything. Emma Donovan, '23, helped me because we play the same position, so she knows how it works. Abby Kluck, '23, also helped me because she was just a great friend to me and supported me through the games when I was nervous," said Lueken.
Olivia Donovan, '25, who started as setter for the volleyball team, shares a similar experience. 
Donovan said, "Someone who took me under their wing was Addie Poppe, '22, and Izzy Pfeiffer, '22. They encouraged me all the time and gave me confidence. I'm glad I got to experience and have a relationship with the upperclassmen before they leave." 
The upperclassmen on these teams also appreciate the freshmen's contributions
Andrew Schmidt, '22, who played offensive and defensive line, said, "Obviously as a senior and having a freshman playing on the team, some things are a little scary, especially him being new to the whole high school scene. We all just had to have that confidence in him and help him through it, but, at the same time, he was going to make mistakes. We had to learn and he had to learn just as we did when we were freshmen, and we saw that he had potential." 
Although he was concerned at first, Schmidt quickly enjoyed having Bormann on the team. 
"He's just a really energetic and nice kid. He always hyped us up, and he always  congratulated us when we did a good job. It was just nice to have him around," said Schmidt. 
Addie Poppe, '22, agrees with Schmidt. 
"I was nervous at first, but once I got to know the freshmen,  I was excited," said Poppe.
Despite the  many great memories of the teams they were on, being a freshman on varsity was far from easy. As Donovan notes,"Something that's difficult about playing varsity sports is that there's a lot of pressure because you always have to prove yourself."
Leave a Comment
About the Contributor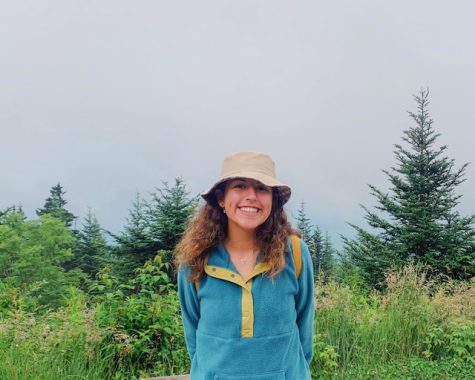 Ana Rivera, Reporter
This is Ana's third year on the Gleaner staff, she's a junior. She enjoys traveling, reading, and spending time with friends. She's involved in xc, basketball...