Students pick their favorites for Super Bowl 57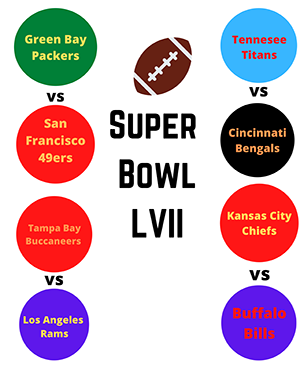 The NFL Playoff bracket is here! Fourteen teams are competing to be Super Bowl champions! Many students have different predictions on who will win the big game.  
Colin Cronin, '23, thinks the Chiefs will win the big game, 35-28.
"I feel like their offense can't be stopped," said Cronin. "I don't think their defense is good this year, but their offense will keep them in the game." The Chiefs offense is ranked third in the NFL.
Connor Moroney '23, thinks the Packers will take it home. "I think the Packers will beat the Chiefs 38-35," says Moroney, "It will be a high scoring game, and overall, the Packers will pull it off because they have more drive to win it because it is their last shot to win it one more time with Aaron Rodgers." Rodgers and the Packers have made it to two consecutive NFC Championship games and lost. It will be interesting to see how the team responds. 
RIley Woods '23, also has the Packers winning it all. "Because they have three Pro Bowl players returning from injury, and they have previous losses in the NFC Championship games, they will want to redeem themselves this year," said Woods. The Packers have only won one NFC Championship game in the past 11 years. 
JP Weber '23, also thinks the Packers will beat the Titans 35-24 because they have been the best team in the league all year and have three all pros returning from injury for the playoffs." 
The Packers are returning all pro players Jaire Alexander and Za'darius Smith. They add to what is already the 9th-ranked defense in the NFL. 
The Packers are definitely the popular pick to win the big game this season, which is no surprise. As for my prediction, I have the Chiefs defeating the Rams, 34-31. I think the Rams are a dark horse team, and the Chiefs are insane on offense. It should be a crazy postseason, and it will be interesting to see who takes home the trophy this year!
Leave a Comment