Kalb family leaves golf legacy
Although last year's spring golf season was cancelled, the girls' team is coming off of a state championship in 2019. With only one returner from that state championship team, many young newcomers will have to step up. The team will rely on the contribution of three sisters to help lead the team.
The Kalb family has a long line of girls that have contributed to the girls' varsity golf program –eight years to be exact. The girls have a consistent run of golfers including Elyse, '17, Elly, '19, Anna, '21, and Ava Kalb, '24. By the time Ava reaches her senior year, the family will have an eleven-year span of varsity golfers.
Ava said, "My family has enjoyed participating in the TH Mini Tour and Junior Tour during our summer together, so now we enjoy going to the range and playing a round together. Golf is something that we can always talk about."
Not only are Ava and Anna promising varsity golfers this season, but their sister, Elyse, will also contribute as a volunteer assistant coach.
Coach Dan Mulligan said, "Elyse was a great player and person when she played at Wahlert years ago. I know she's a student of the game as well and played competitively at St. Ambrose after leading her Wahlert teams."
Mulligan anticipates that the sisters will be able to motivate each other through their friendly competitive nature. Since golf is often viewed as an individual sport, Mulligan explained that "our opponent is the course in that we try our best to conquer it on any given day and we don't play defense on other teams and players."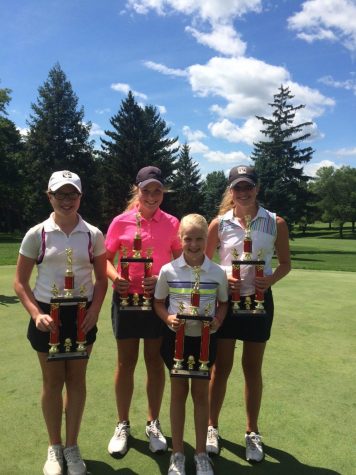 Being able to confide in older siblings has also proven to be helpful for the golfers. Both Ava and Anna began golfing when they were only seven years old, so they have often depended on the advice of their experienced siblings.
"I love having older siblings because they always let me practice with them and gave me advice to better my game," said Anna. "I would say that my family has bonded through golf because it is something we all enjoy doing together."
Ava adds, "I have never felt pressure from my sisters, but more inspired by their accomplishments. Their dedication and love of the game has motivated me to want to perform well individually and contribute to the team's success."
Leave a Comment
About the Contributor
Jamie Vondra, Reporter
Jamie Vondra is a senior at Wahlert and an editor on The Gleaner. Vondra is involved in volleyball, bowling, and golf at Wahlert. Jamie enjoys creating...