Something to prove
After securing titles throughout 2019, and eventually winning state, Wahlert lost many of its varsity players through graduation or transferring. However hopes were still high going into the 2020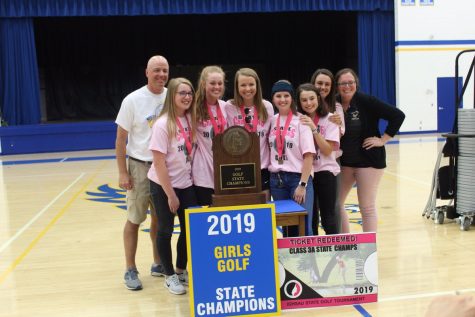 season for girls' golf. 
Unfortunately, with Covid on the horizon, spring sports were cancelled, shattering the girls' dreams at another run at State. 
Anna Kalb, '21, was devastated at missing her junior year of golf. "Missing last year was difficult because I was so excited to get back out and play and was looking forward to another good season in hopes of qualifying and placing at state again," Kalb stated.
Katelyn Vaassen, '23, was looking forward to playing with upperclassmen for the first time and learning from some of the best players on the team. "Honestly, with Anna Jensen leaving last year, I was really disappointed because I was excited to play with someone who I looked up to from a golf perspective. My mindset changed a pretty big amount because now there is more pressure on me to perform at every meet whereas last year I could have had a free card every once in a while," said Vaassen.
Still, the girls are hopeful that this season will be a success, Kalb expressed, "We will make this year a success by putting in a lot of time and effort on the course to achieve our goals and get better as players each day. We may be small, but I believe our younger talent will help make us a solid team."
While the team is young this year, the golfers have already set some lofty goals that can be accomplished from their grit and work ethic.
Vaassen has some high goals for herself, in order to get to the pinnacle of high school golf for her first time. "My personal goals… are to show up and be able to compete with other #1 player's from other schools, but my real end goal is to try to make it to state. Whether that is personally or as a team, I think that making it to state as a sophomore is a huge achievement, and that is what I will be pushing forward to this year. But, regarding my team goals, they are just to have fun and appreciate that I will be able to play this year," Vaassen.
About the Writer
Roan Martineau
Roan Martineau is a Freshman sports reporter for the Gleaner and is on his second semester of the Gleaner staff. He is involved in Golf, and Tennis. In...