Schockemoehl makes his mark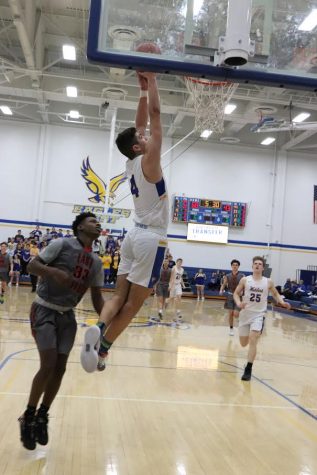 Everyone dreams of accomplishing big things in their life. For most people, a dream stays a dream, a wish that really wouldn't ever come true in this world. But for Jake Schockemoehl, '20, his dreams became reality this season with the help of his coaches, trainers, family, friends and teachers. 
"Freshman year I had dreams and aspirations to make my mark in Wahlert Basketball and knew I could do it, but I didn't realize it could be reality," said Schockemoehl.  
As soon as Cordell Pemsl graduated and went on to further his career at the University of Iowa, Schockemoehl entered high school as a freshman and dreamed of filling Pemsl's shoes from the second he stepped on the court. He started spending endless hours in the gym with the people who cared about him most: family, friends and trainers. 
By the end of his sophomore season, he had already totaled 156 points as a varsity player. Junior year he added another 370 and had an overall total of 536 points. This was very good, but he didn't start to recognize how influential these points were until this season, his senior year. 
The last regular season game against Xavier took place Feb. 20, 2020, just last week. The team ended up losing just by a point, a three-point shot to win the game at the buzzer. Schockemoehl ended up with 15 points in that game, bringing his career scoring total to 944, placing him as the 6th all time scorer in school history. 
During  the rest of the postseason, substate games and a possible battle for a state championship, the number could keep growing leading to a possible new member in the 1,000 point club at Wahlert. 
But Schockemoehl didn't get this far and make his dreams come true without really wanting it deep in his heart. 
"I accomplished this huge achievement through thousands of hours in the gym, hard work and dedication with trainers, friends, parents, coaches, blood, sweat, and tears along the way," Schockemoehl said. 
He added that the ultimate prize at the end of the run is still to come. 
"But at the end of the day, it's all about the memories made with my brothers on and off the court."