Following their passions beyond Wahlert
Out of all the sports offered at Wahlert, boys' swimming isn't represented as a team sport and doesn't have an actual team to affiliate these swimmers with. But that hasn't stopped the boys' swimmers here at Wahlert from hitting the water! 
Swimming for Hempstead and Senior, the Wahlert swimmers are contributing. Mathias Chamberlain, '20, swims the 500 and 200 freestyle among many other events for Hempstead. Chamberlain, who has been swimming since he was 4, has posted blazing personal records in his long distance events with 4:47 in the 500 freestyle and 1:46 in the 200 freestyle. The work it takes to post such speed is right up his alley.
"I like swimming because it's a hard, very competitive sport, and it takes guts. It has lots of opportunities to build skills for other aspects of life," said Chamberlain, who has committed to swim at Lewis University in Romeoville, Illinois.
While Chamberlain has claims on the distance races, Aiden Yaklich, '22,  who also swims for Hempstead, has the short distances in hand. "I've been swimming since I was in fourth grade, and it keeps me in good shape," said Yaklich. His pure swimming speed has allowed him to achieve personal records in the 50 freestyle of 23.6 seconds and in the 100 freestyle, swimming 51.6 seconds.
Dylan Young, '22, who swims for Senior, also competes in short distances and the 200 relay. "This is only my second year swimming, but I like the sport because it's still a team sport, and it's really competitive. There are 21 events with about half of them being relays, so it's definitely a team sport," said Young.
The swimmers have been excelling while swimming for Hempstead and Senior and have high hopes of making it to Iowa City for the State Meet on Feb. 15. It's just a matter of "times" to see if their long-time dedication to the sport will pay off. 
Leave a Comment
About the Contributor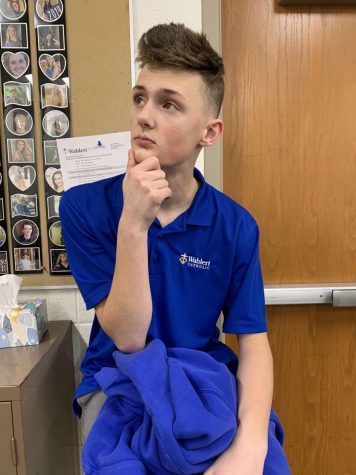 William Herbst, Reporter
William Herbst is a sophomore sports reporter for the Gleaner and is on his second year of the Gleaner staff. He is involved in Sophomore Student Senate,...