Cheering on multiple sports to victory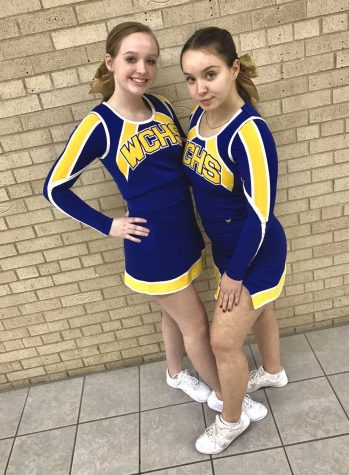 The majority of school sports take place throughout one season, which is enough to keep a student athlete's schedule busy. However, in the world of cheerleading, there are two seasons. Oddly, though, there are many more students who choose to participate in only fall cheer, not winter.
In fall cheerleading, the entire squad cheers for football and is split between squads that cheer for varsity and J.V. During winter cheer, however, the girls choose between cheering for basketball or wrestling.
Faith Frick, '22, decided to join basketball cheer this year and has enjoyed the experience thus far.
Frick said, "I enjoy winter cheer because I love the motivation the crowd brings for us and the teams. It's also nice to be indoors and not have to worry about bundling up!"
Natalie Rambousek, '22, cheered for basketball last year and was not as fond of the experience, especially in comparison to the fall season. After some persuading, however, she decided to give wrestling cheer a try this year.
"I prefer fall cheer because there are a lot more girls that do it, especially from different grades," said Rambousek. "But, the bonds we form in both seasons are incredible because we grow closer to the other girls and the coaches."
As Rambousek mentioned, the number of girls participating is one big difference between the two seasons, but other cheerleaders do not see many other significant differences. Besides the obvious difference in the cheers and atmosphere, the two seasons provide a similar experience.
Olivia Pfeiler, '21, is one of the experienced wrestling cheer captains. She said, "There are certain cheers you can only do for football and the same is true with basketball and wrestling. But, overall, the job as a cheerleader is to show positivity towards the team and student section, which stays the same in all seasons."