Young team, high hopes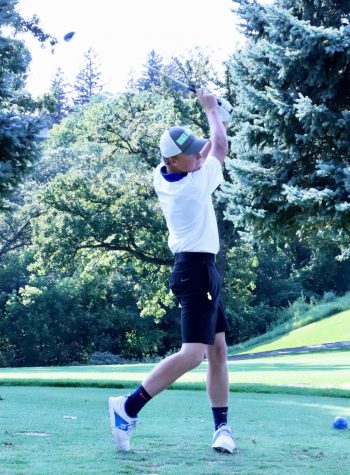 When playing sports, it is important to not only have a skilled team, but also a team with a healthy bond. Although golf may seem like an individual sport, the support of a teammate is crucial. Since the boys' golf team this year was heavy with underclassmen, there is time for them to strengthen not only their bonds but also their skills before next season.
This year's varsity team consisted of two juniors, Ben Vaasen and Ben Cummer, '21; three sophomores, Nolan Martineua, Nick Splinter, and Alex Link, '22; and one freshman, Will Coohey, '23. So, while the team did not reach the state tournament, their chances of success will increase next year.
Link is hopeful for the team's future. "It was mainly a rebuilding year for us," said Link. "It would've been really cool if we could've gone to state, but I truly believe that there are a lot of good things in store for us next year."
In order to advance past the state qualifying meet, the team had to finish in the top three. After lots of hard work, the boys came in fourth; only five strokes away from advancing.
In reference to the close meet results, Cummer said, "To be honest, this year was a bit of a disappointment. But, next year should be more prosperous because we will have the entire summer to improve together."
Although the season did not end as the team had hoped, it can overall be described as a success. They became closer as a team and their bonds will only continue to strengthen.
Coohey agreed, saying, "It's nice being on a young team because we have plenty of time to grow in our skills and our relationships. Like Coach Ehrmann always says, 'We're all brothers.'"