Marshall-led football team begins with a win
How do you spend your Friday nights? Doing homework, watching Netflix or maybe hanging with friends? For the football players, it was locked in what they would end up doing ever since they and Coach Jamie Marshall first took to the practice field in July. And they didn't fail to make a first impression.
The varsity boys football team has soared into this new season. Led by new head coach Jamie Marshall, the Golden Eagles have gotten off to 1-2 start thanks to late game heroics by kicker Bennett Cutsforth, '20, and quarterback Charlie Fair, '21, en route to beating traditional power West Delaware 17-15. In week 2 and 3, the team took crushing losses to Davenport Assumption and Central Dewitt. 
Fair commented on the experience of being quarterback: 
"It's really fun to be out there with all my friends and go out on Friday nights to try and go out and win football games." With a new style of offense and coach, it seems as if the players are having a more enjoyable start to the season than last year.
In the season opener against West Delaware, the team shocked the local football world winning in dramatic fashion due to many key plays in the game. West Delaware opened the scoring early until late in the 1st half where Fair went deep for Jake Brosius, '21, for a miraculous one handed catch and a touchdown to tie it up for Wahlert going into halftime. 
"The key for our success in that game was our offensive and defensive line playing their tails off," Fair said. That was evident when, thanks to some amazing blocking, Gabe Anstoetter, '21, opened the second half scoring after a huge run that gave Wahlert the lead 14-7. 
West Delaware then scored six and thanks to an unfortunate safety from a punt, the score was now 15-14 Hawks with a couple of minutes to go. 
Wahlert's final drive turned out to be the most memorable in that game as Fair completed multiple passes on 3rd and longs to keep the drive moving. It seemed like the game was on the line when the Eagles faced 3rd and 11, just outside of field goal range for kicker Bennett Cutsforth, who was dealing with cramps for most of the game. Fair dropped back to pass and found an opening and rushed for the first down that kept the drive and Wahlert's hopes alive. 
"I knew they were over pursuing the sprint out the entire game, so when the hole opened I knew I had to take it," Fair said. 
Three plays later, after cramping and fighting through adversity, Cutsforth was set to kick the game winner. He made it as the Rock Bowl erupted with cheers. 
It seemed like the Eagles had done it, and after an interception by Ian Takes, '21, the game was over and Wahlert had gained its first win since the 2017 season finale. It was also a win in Coach Marshall's first win as a high school coach. Just goes to show what happens when you respond to adversity and challenges, especially in a sport like football.
Leave a Comment
About the Contributor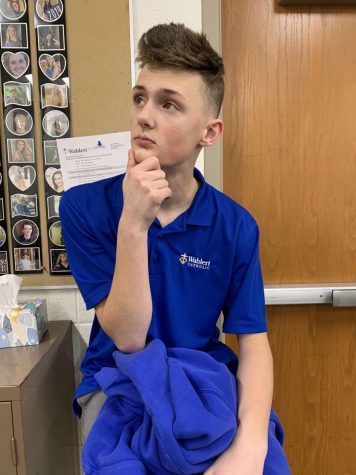 William Herbst, Reporter
William Herbst is a sophomore sports reporter for the Gleaner and is on his second year of the Gleaner staff. He is involved in Sophomore Student Senate,...