Defending state title with no eXCuses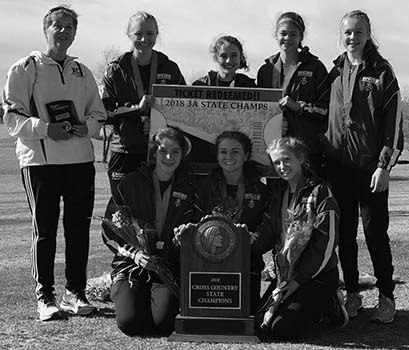 Sophie Skemp
Of The Gleaner
The two-time defending state champions are back and ready to take home another state title. The women's cross country team hopes their hard work will yield a three-peat in class 3A. 
"Our main goal as a team is to work as hard as we can until it comes time to put all of our practice to use," said Ellie Meyer, '22. 
Meyer, a returning member of the team, is excited to contribute to the team's spirit this year. The team encourages each other by cheering one another on and hyping each other up as they run at practice. 
The team lost one senior varsity runner last year, Gracie Long, '19. However, they are still continuing to work well as a team, especially with a newcomer Maya Wachter, '21. 
"The team was very welcoming of me. I was a little nervous about joining the team, but it has been a lot of fun so far," Wachter said. 
The success of the team requires lots of hard work and determination. In the summer, the team had many workouts to prepare for the season. 
Ella Deeny, '20, said  that she enjoyed summer workouts because it brought the team closer together, and it made her feel a part of the cross country family. "I'm not a varsity runner, however I love to cheer on my teammates and add to the positivity of the team," she said. 
As for a returning state champ, Aunna Huseman, '20, she has set in place many personal goals to take home another banner.
I want to try and get my time under the twenties, eat better and set my pace to an even faster time," she said.
The girls cross country team has built an unbreakable bond over the past few months, and they hope to reach their goal of a 3-peat at state.