Trapshooting Club sets sights on State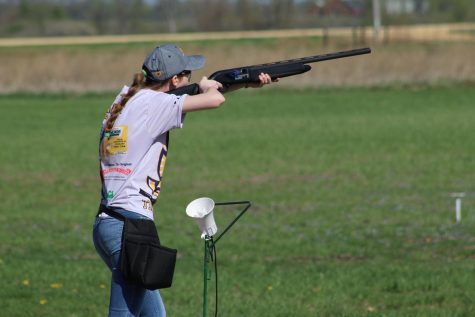 "Pull!" they call, followed by a small, orange disc being launched into the air. The disc is followed by the loud bangs of the guns and the disc being hit. This is what a typical day for trapshooting looks like.
Trapshooting is a relatively new sport at Wahlert although it is officially designated as a club. It may not seem like it, but there is a lot to it.
First off, all participants are separated into varsity and junior varsity (varsity being for anyone who has done two or more years of it).
Within those two groups, teams of five called "squads" or "flights" are made, with one squad leader. At competitions, these squads compete in one of the different variations, such as singles, doubles or handicap. The squads compete by shooting at five clay targets called birds, rotating positions until all shooters have shot at 25 birds.
This is what taking part in trap has looked like for Garrett Schmidt and Emily Kasal, '20. Both have done it since their freshman year, and they are now seasoned varsity members.
"I don't know how to explain it. It's just thrilling," explains Kasal. She highlights a list of things that make it fun. One thing, for example, is how easy it is to miss a shot, but sometimes get the smallest of hits on it for it to count. She also gets to be outdoors doing something the average high schooler doesn't do. Watching a bird get hit by pellets makes it look like fireworks. Even something like the smell of gunpowder makes it a unique and exciting experience for her.
"There's also a lot of camaraderie within the team. At practices we come up with different words to say instead of pull, like 'Joe' or 'cold.' We also have fun playing games like Annie Oakley at practice. I would much rather be at the range than in school."
Schmidt concurs, adding: "It's a great stress reliever. Being able to go out and just shoot things makes it enjoyable. It's competitive, and the urge to improve upon my scores is another reason I keep doing it."
Both then explained why they initially joined. In Kasal's case, it was to try something new.
"I had shot a gun before and when I heard about it, I wasn't in any other sports. I thought I would try it," she said.
The same goes for Schmidt, who explained that he had first been exposed to it when he was a Cub Scout. His family doesn't have much of a background in hunting or anything involving guns, but he enjoyed the chance he had to shoot as a Cub Scout and found he was good. So when Schmidt entered Wahlert, he wanted to try it out.
The trapshooting season is typically four months, from February to June, but the weather of the past few months has affected it just like many other activities here at Wahlert. Practices and meets have been affected by being postponed or canceled, meaning the members have had less time to shoot.
Still, they have a busy schedule ahead with more meets in the coming weeks, with state on June 8th, the day after school ends.
Heading into the weeks leading up to state, the members have been practicing as much as possible. Kasal hopes the practice will translate into an improvement on her scores from last year.
"Last year I shot 166/200, missing 34, but also improving from freshmen year by 34. If I can improve upon last year, that would be great. I also hope to get first place at a meet this year. There are separate medals for boys and girls, and I already have gotten the second and third place medals. So if I can get the first place medal, that would be awesome."
Leave a Comment
About the Contributor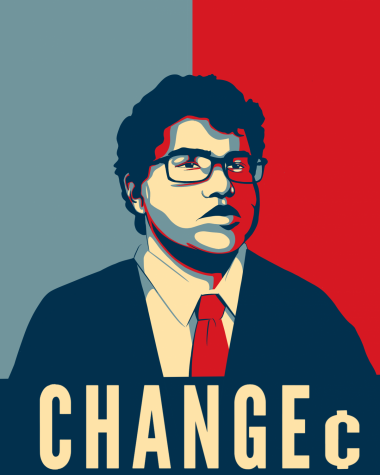 Alejandro Rojas, Editor
In his third year of the Gleaner, Alejandro Rojas, '20, is a senior editor of the paper. A hard worker in and out of the classroom, he is very excited...