Girls' Golf poised for a banner year
Hang on for a minute...we're trying to find some more stories you might like.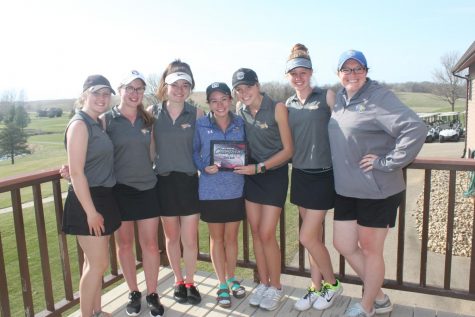 The goal for this year's girls' golf team is quite clear: hang a banner. Coming off of a fourth-place finish in last year's state tournament, this year's team returns most of its key players from last year's run and re-loads with new talent as well.
The team will be led by two fixtures of Wahlert's golf program. Long-time women's coach Katie Lenart will split coaching duties with former men's and women's coach Dan Mulligan.
"Coaching with Mully is kind of a full circle moment for me. He was my coach back when I played in the 90's, and I actually took over for him in 2005. I think we will both help keep the team focused, realizing that we can set our goals very high but will also have to work hard to get where we want to be," said Lenart.
Anna Nacos, '21, is a transfer from Washington, Iowa, and headlines the newcomers for the Golden Eagles. As a freshman last year, she finished in fourth place individually, firing rounds of 75 and 84 at the state tournament. She and her sister, Sara (now graduated), led Washington to the team state title as well. She is poised to make a similar run this year with the Golden Eagles.
Mary Edwards, '19, has an already impressive state career with two top-five team finishes under her belt. Her play has earned her a spot on University of Dubuque's women's golf team next season. She should bring poise and experience in big moments this year, which she credits to playing on the highest stage over the past few seasons.
"I think more than anything, playing at state and other big tournaments has helped my nerves a lot. I feel like I'm more prepared for state this year, and I've tried to put in the work over the winter to get there," said Edwards.
Perhaps the golfer most eager for another crack at state is Anna Jensen, '20. Jensen's career at state has been a roller coaster ride to say the least. As a freshman, she was sidelined on the second day of the tournament with an illness. Last year, she finished an impressive second place individually at state with rounds of 76 and 79.
The trip to Otter Creek Golf Course in Ankeny to compete for a title is not guaranteed, and it will require strong play from all players, but with this team's experience and depth, the results should be up to par.