Freshman 'dehr' to win
Hang on for a minute...we're trying to find some more stories you might like.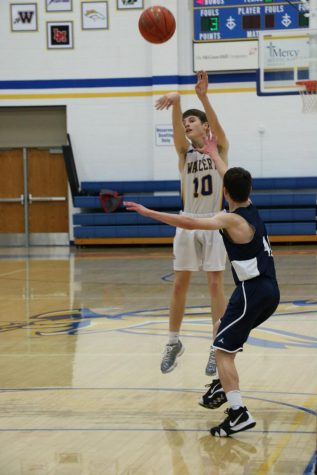 The Golden Eagles' freshmen basketball team grew together on and off the court and finished with a record of 9-8.
The team's motto for the season was based on an acronym, "We Dehr" (pronounced dare): Win Every Day Embody Hawkeye Reputation. According to Coach Bryan O'Donnell,  "We Dehr" has another meaning as well. It is also an expression of solidarity, which means "We got this."
Sam Luken,'22,one of the team's forwards, states,"We dehr means were ready for anything that came our way."
Jack Freiburger, '22, a shooting guards, notes, "Were good at communication, teamwork, getting buckets, and all alright at shooting."
"Were a strong, well-balanced team," said Coach O'Donnell. "We shoot the ball well from outside, and we did a nice job of competing on the defensive end by contesting every shot. But at the same time, I think there is room for improvement when it comes to rebounding and diving for loose balls."
One of the team's favorite memories occurred during the Hempstead game. In the fourth quarter with the score tied at 32-32. And only five seconds left, Jack Freiburger drained the game-winning three from the corner.