The real world of fantasy football
By Noah Sigwarth
Of the Gleaner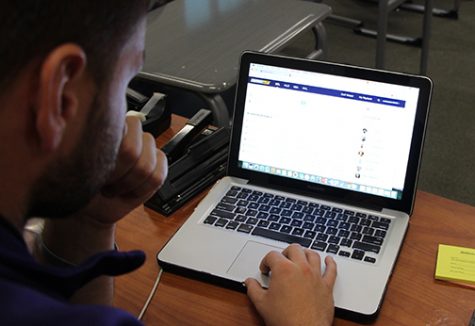 As the school year kicks off, so does NFL football and the popular Fantasy Football game along with it. Football fans across the nation meticulously select a team among the players in a league and score points according to the actual performance of their players.
The common theme that draws both diehard and casual fantasy general managers is money.
Matthew Bandy, '18, is in a league with his friends at Wahlert and explains why he plays.
"We play for money, so I'm in it to win the $150 reward, but I also really like to compete with my friends for some bragging rights," he said.
Each friend in the league chips in $20 to the pot, and the winner is rewarded with $150, second place receives $30 and third place wins his $20 back.
Bandy's favorite player on his selected team is Jordy Nelson, and his strategy is to get as many Green Bay Packer players as possible so he can root for his favorite team and his fantasy team at the same time.
Dalton Chapman, '17, is in a more high stakes league with his co-workers at Tri-Tech. "The league builds camaraderie in the workplace, and I can win a lot of cash," he said.
Chapman is in a league with 18 of his co-workers, and the entry fee is a whopping $350. His favorite player on his team is Tom Brady because, "The Pats (New England Patriots) sling it around a lot." He likes to draft a good quarterback and his favorite wide-receiver, so he gets points for all the times the quarterback throws to his best target.
Even the teachers are involved in the hype of Fantasy Football. Mr. Cole Smith loves it so much he plays in multiple leagues. "I play because I love the competition," he said. "I am the commissioner for the league with my old high school friends, and we play for something better than money: food."
According to Smith, the first place team from his league wins a free dinner from anywhere the winner desires from the last place team.
Mr. Smith's strategy for success is to select players depending on the week to week matchup. He will find a player that is matched up against a bad defense and play them over a different player at that position. He calls himself a, "waiver wire fanatic," and adds and drops players from free agency without blinking.
As a member of a fantasy league myself, I play because I love the game of football, and it makes watching football and rooting for my fantasy team extra exciting. Not everyone gets to live the dream of owning and coaching an NFL team, but they get a little taste of it when they are playing Fantasy Football and making a little "money" in the process.
Leave a Comment