Bending Over Backwards for Iowa Cheerleading
May 1, 2018
Libby Brosius, '18, has been a gymnast ever since she could walk. She grew up admiring her mom, a former Hawkeye cheerleader, and wanted to be just like her. After years of hard work, her biggest dream came true last
weekend when she became a University of Iowa cheerleader.
"I've been a Hawkeye fan my whole life, and I've love gymnastics and cheerleading. My mom has always pushed me to do my best, and I wanted to do this to not only follow in her footsteps but also thank her for everything she's done for me. I figured that it would be a great way to continue to do what I love," sai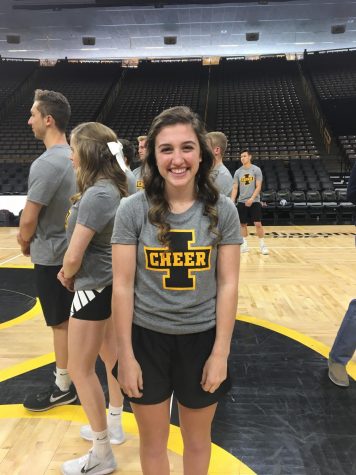 d Brosius.
The tryout process was long and intense and started long before the actual tryouts in Iowa City. "Months ago, I had to send in a video just to get past the first wave of tryouts. The tryouts started last Friday, and we practiced with the Iowa team. The judging panel and coaches critiqued us and decided if we got to continue throughout the weekend. After we learned more cheers and stunts on Saturday and Sunday, they announced the team around noon that Sunday. After that, we had hours of celebrations and meetings to get the year started already," explained Brosius.
There were around 50 people trying out for the Iowa Spirit Squad, and they accepted five incoming freshmen and one new sophomore. "I was nervous about the whole process, but I was more excited than surprised when I made the team," exclaimed Brosius. "I'm so happy that all my hard work paid off and that I get to represent the University of Iowa in such a positive way!"