Seasonal Sips
Many traditional elements make up the autumn experience such as pumpkin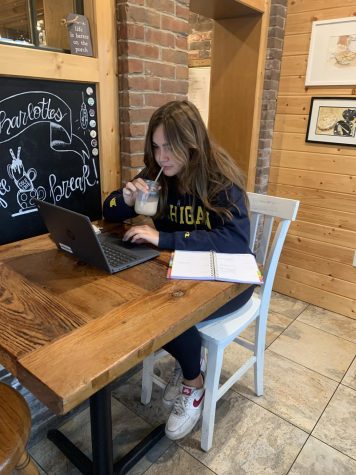 patches, football, and caramel apples; however, many Wahlert students agree that another essential component of fall can be brought to you by your local barista. Fall drinks have undoubtedly become part of the season's culture with drinks like chai, apple-flavored drinks, and of course, the pumpkin spice latte.
One of the most popular fall drinks is a chai latte, hot or iced. Tatum Maternach, '23, says that the drink "gets me into the fall spirit because they taste like cinnamon rolls, which reminds me of fall." Another thing that she appreciates about chai and other fall drinks is that they, "are equally delicious hot or iced depending on the day's weather!" 
The Midwest's fall can be fickle, so being able to enjoy the taste of fall, hot or iced, is an important part of a satisfying seasonal drink. The warming notes of cinnamon in a good chai are enough to get anyone into the seasonal spirit.
Arguably the most popular fall beverage is the pumpkin spice latte. Not only is it a wildly popular beverage at coffee shops, but it has become extremely mainstream and even takes over the internet every fall. 
Wahlert students have varying opinions on whether or not they think that pumpkin spice is worth the attention that it receives, but it still remains extremely popular. 
Cate Ihrig, '25, believes that the beverage is "over-hyped," and that, "the beverage itself doesn't taste that good, and it's more of a tradition to get a pumpkin spice latte than something that people actually enjoy drinking." 
No matter what your stance is on fall drinks, autumn is at its peak, so throw on your favorite cardigan and boots and try a new fall beverage or an old beloved one.
Leave a Comment