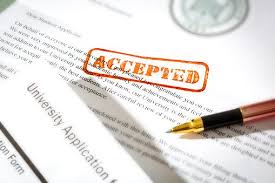 As the school year draws  to a close, many students in the senior class are faced with one of their biggest decisions yet: where to attend college. Many things factor into this question.
Both David Hughes and Matthew Becker, '19, are looking for new opportunities within the business programs at their future schools.
"I've looked at a lot of schools that I feel would offer me a great education. Looking for schools that would allow me to learn a lot, make connections, and enjoy a new experience are all very important to me," Becker said. He is considering majoring in economics at Northwestern University for the upcoming year.
Similarly, Hughes, who may attend Loyola University Chicago, said, "I am looking for a mid-sized private school with a strong business program."
While a great education should be prioritized, much more needs to be considered. Things such as location, price, and school size are all very important.
"I plan on playing football at Coe next fall. I think this school was really fitting for me because it is not in Dubuque, yet is still close enough to my family," said Bryce Osterberger, '19. "The small size of the school gives more of a community feel."
If you are still stressing over your college decision with the national decision day deadline approaching (May 1st), here is some advice: Try not to stress too much about the decision or where you are going. Stick with your gut feeling and realize that you will be as happy as your attitude allows.