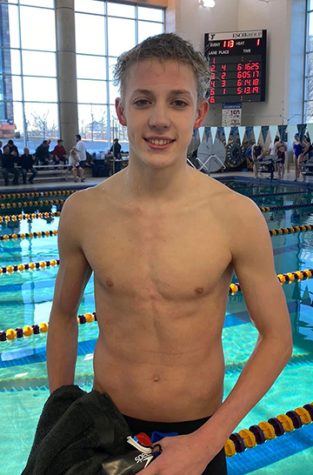 Swimmers step up, take your mark… BEEP! The race has begun. 
For Aiden Yaklich '22, and Kyle Powers '25, their hard work has paid off as they have swum their way to Nationals. 
From early morning practices to lifting every day, the two have put in the work to make it to North Carolina where Aiden will compete in the 50 Free and 200 Free Relay and Kyle will compete in the 200 Free Relay. 
Yaklich is looking forward to Nationals because, "I get to spend time with my teammates one last time and see all of the fast swimming that will be there." At Nationals, some of the fastest swimmers from YMCA's in the United States under the age of 21 will be swimming. This makes for incredible swims and tough competition! 
Swimming is a tough sport that takes a lot of time and dedication. "Sometimes during the year, we are with our teammates more than our own families," said Powers.
According to Yaklich, "A typical practice consists of a lot of yards early in the morning." Powers added, "We start with a warmup and then go into the main set. From there, we focus on fundamentals like starts and flip turns and then finish with a cool down." 
Powers started swimming in 6th grade after his parents pushed him to join the team. He said, "My favorite thing about swimming is the community. We all push each other to be better not only in the water but also in life." 
Yaklich and Powers both believe they could not have gotten this far without the continuous support from family and coaches. Yaklich said, "My parents are at every meet supporting me. My amazing coaches also encourage me and teach me what swimming is all about." 
Of this opportunity to swim at Nationals, Powers said, "I never imagined I would qualify for Nationals and be swimming with some of the best swimmers."